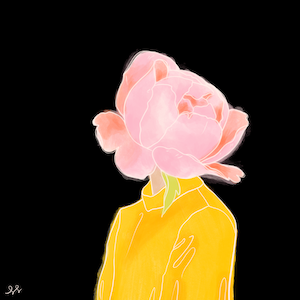 1. Almost anything read aloud just for me. Stories turn me on. Hearing stories read just for me turns me on. Hearing erotic stories read just for me really turns me on. James Salter's A Sport and a Pastime probably represents the peak, but the humorous love story About Alice by Calvin Trillin, many of the Eve Babitz stories, E.E. Cummings poems and even a really awkward cringe-inducing question-story published in the Boston Globe's Love Letters column have all worked. (Well.) Want to turn me on? Read it to me, daddy-o.
2. Getting a great compliment. "I've noticed that you're a world-class encourager of others." That's the best compliment I've ever received, and it made me feel much closer to the friend-who-became-a-lover who gave it. Why? It had all the elements of a great compliment. He genuinely meant it. It is not obvious; he saw something in me most people don't notice, so I felt known. The compliment went to my character, not how I dressed or how hot my tits are (though I love those as well). Most of all, he appreciated something about me that I like a lot. It is true that I am not prone to pettiness or jealousy with respect to others' things or accomplishments. I am a middle child and have no need to take center stage. I love to applaud others, and I encourage others wholeheartedly and without reservation. And take absolute joy in their wins. What a turn on to have someone see and appreciate that.
3. Anyone cooking anything for me. My maternal grandfather had a restaurant in the small, lovely town my parents grew up in on the Erie Canal in upstate New York. On Sundays my grandfather cooked for the extended family, which might include his brothers (he had nine) and their families, along with his children (he had four) and their kids (there were 10). On Wednesdays it was just the kids and grandkids "in town" and we all took the bus from school straight to my grandparents' stop. My grandfather was taciturn; he might say five words in a night. He literally fed us his love. For better or worse, nobody has ever cooked anything for me that did not make me feel powerfully loved by them. (I mean, it turned out later that sometimes they just needed a taste tester. But whatever.)
4. My iroha+ TORI.  If you watched Anthony Bourdain: Parts Unknown "Tokyo (Season 2, Episode 7)", then you know that Bourdain loved the mysteries (and fetishes) of Japan most of all. In Bourdain: Off the Cuff: Tokyo he begins in the red-light district of Shinjuku, then visits hostess bars, sex clubs and bondage artists. In Tokyo by myself after a bad breakup and feeling very Lost in Translation, I retraced many of Bourdain's steps, which resulted in finding the vibrator that turns me on the most. (And I've tried a lot.) Like my other obsession—"Get Off," the perfect neutral shade from NARS lip pencil line —I am so worried about the possibility that iroha discontinues the TORI that I have three unopened boxes in my closet as back-up.
5. Watching Secretary, directed by Steven Shainberg. This superbly cast, quirky 2002 arthouse film about the surprising way a dominant-submissive relationship develops between a businessman (James Spader) and his assistant (Maggie Gyllenhaal) still delights. Best lines:
Mr. Grey: "We can't do this 24 hours a day, seven days a week."
Lee: "Why not?"

Hello, Crush! What turns you on? I'm thrilled to introduce you to this new recurring column where we share five things that light our fire. I'm kicking it off with my list above – and I'd love to hear from you! (Yes, you!) If you'd like us to send you a template to fill out, it's really easy and fun, please email me at dish@primecrush.com. (PS you can publish under your alias.)

The Crush Letter
The Crush Letter is a weekly newsletter from Dish Stanley curating articles & intelligence on everything love & connection - friendship, romance, self-love, sex. If you'd like to take a look at some of our best stories go to Read Us. Want the Dish?


---