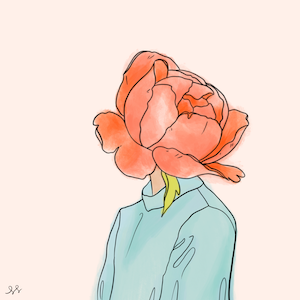 Crush Reader Liza Lentini shares 5 Things That Turn Her On.
Is this your real name: Yes.
Occupation: Writer & Editor.
Current relationship status: In a committed relationship.
Which generation are you in: Proud Gen Xer.
Follow you on: insta @thiswickedawesomelife

"La Vie En Rose" by Grace Jones: I never make a feel-good playlist of any kind without this song on it. Grace Jones is one of the hottest women who fell to earth, and she took one of the most beautiful songs of all time to the stratosphere and back. The result is a tour de force as only Grace Jones can do it. Like her, it's stunning and powerful and steaming hot.
Being nice to my dog: My dog and I come as a pair. There's no negotiations on this one. Besides, dog people are the best people. Am I right?
9½ Weeks (film): The book and the film are both incredible, but the film decided to soften Elizabeth McNeill's original story, as films tend to, so I think of it as its own entity. With that, Mickey Rourke and Kim Basinger have never been more beautiful. The film is careful to focus on love—with some very light BDSM on the side—there's some heartbreak, but no major damage done. NYC in the 1980s makes for a perfectly sexy backdrop.
On your knees, Baby!: Um, I'm talking about housecleaning…what did you think? I am obsessed with keeping things clean and organized, and as I'm usually the one who takes initiative with this, it's white hot when someone else—that I haven't paid—does it for me. And I'm not talking about a tiny little counter wipe, I mean…scrubbing floors. (Yes, on your knees.) YUM.
Breakfast in bed: Typically, breakfast in bed is served when I'm on vacation…and truly, what's sexier than vacation? I admit I order more food than I can eat, and lots of things I wouldn't ordinarily have for breakfast. It feels so indulgent. It is so indulgent. It just occurred to me as I'm writing this that I haven't had breakfast in bed for far too long…must remedy that immediately.

Hello, Crush! What turns you on? I'm thrilled to introduce you to this recurring column where we share five things that light our fire. We'd love to hear from you! (Yes, you!) If you'd like us to send you a template to fill out, it's really easy and fun, please email me at dish@primecrush.com. You must be a subscriber! (PS you can publish under your alias.)

The Crush Letter
The Crush Letter is a weekly newsletter from Dish Stanley curating articles & intelligence on everything love & connection - friendship, romance, self-love, sex. Want the Dish?


---