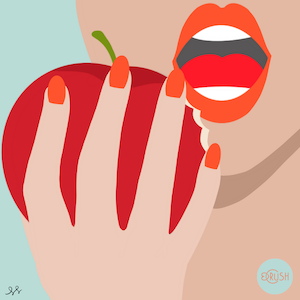 Chef Ali designs the perfect, easy menu for when you want to be alone with your favorite person: Yourself.
In the before times—in the before, before times—my life consisted of rushing from one place to another, frantically making connections, searching for someone, or something that would complete me. I rarely thought about making time for myself. Life was very "IMPORTANT" and "URGENT", and I was young and I spent a lot of time alone, and I didn't appreciate it. AT ALL!
I am now a married lady who lives in a small town, a place where you do not even have to dial the area code to make a local call (I took me months to figure out why I couldn't use a landline). I spend a good deal of my day times alone.  During the pandemic, I spent too many of my days alone and absolutely none of my nights. My husband was home every single night. EVERYSINGLEF*INGNIGHT. He never went camping with a friend, or away for a couple of nights for work training, or back to New Jersey to visit family. I would work "late" one night a week, but we would still have dinner when I got home at 8 p.m. (which in pandemic Maine was the equivalent of 3 a.m. in another big city life).
When I was single, I would have read that paragraph and said, F-You, you smug bitch, what is so terrible about having dinner with the man you love every night? Well, I would like to tell my younger self, you are romanticizing a life you are not living.
I am now a person who understands how welcome and necessary a night alone can be.  I learned this lesson from my dear friend JP. JP is beautiful, brilliant, kind and just a terrific woman. She has a crazy, intense, stressful job where she takes care of a lot of people, like a city's worth of people who need a lot of things very desperately.  JP great at prioritizing treating herself well, she makes herself lovely dinners and wears her leather shorts with heels and make up to Zoom meetings.
If that sounds weird to you then you have the same lessons to learn that I did. Treating yourself with generosity and kindness is so freaking great when you get the hang of it! It's not just snugging up in your comfiest comfies with a pint of takeout noodles whilst binge watching '90s rom coms. There are evenings when you need to buy yourself some flowers, put on something that makes you feel really good about yourself (even if you haven't quite figured out how to wear it outside), make a cocktail (or mocktail), cook yourself a really soul nourishing dinner and enjoy your own company, eat at the table with utensils, drink good wine, wash the dishes, smoke a joint, take a bath, have dessert and retire at the end of the evening with yourself and enjoy that time, all of it, because you are being nice to your most important person, you. (Just don't forget to moisturize).
I've designed a menu for the perfect solo night in, when you want to "date yourself". Keep it simple as far as prep and clean up, because, yeah, it's nice to be really extravagant but facing a sink full of dishes is just no fun. I tend towards pasta when I am alone, my husband is really annoying about not eating carbs and it feels super indulgent to basically make buttered noodles for myself for dinner.
*****
Menu for a Solo Night In
Vodka Martini
Caprese Salad
The BEST TOMATO you can get your hands on + burrata, olive oil, basil, mint, chilies, flaky salt & vinegar
Truffled Cacio e Pepe*
A personal favorite, recipe below
Easy Green Salad
Mine is baby lettuce from farmers' market w mustard/shallot vinaigrette)
Dark Chocolate Sorbet
Dark chocolate sorbet + olive oil & smoked Maldon salt (don't knock it till you've tried it, it's so grown up and addictive)
Wine Suggestion: It is my strong belief that champagne goes with literally everything that is food, but a Pinot Noir would also work.
*****
Truffled Cacio e Pepe
The better the cheese the better this dish is, buy the good stuff, grate it yourself. Buy good pasta, buy good butter. Trader Joes has it, so does Whole Foods. If you can't find the Pecorino al Tartufo (aged sheep's milk cheese with black truffle) you have some options: 1. Buy a truffle, amazingly you can get them on Amazon right now, but also possibly at your local gourmet store; 2. Buy jarred truffle, this is a pretty good option you can get it on line, at a gourmet store or, my secret spot is Home Goods or TJ Maxx…seriously they have crazy deals on truffle stuff. If you can find the jarred sliced truffle get it, get all of it and make everything super fancy; 3. Truffle oil. Okay, I am not a huge fan—unless it is infused and not flavored, artificial truffle tastes like gasoline—real truffle tastes of mushrooms and sex and mysteries.
This is a super easy-to-make method and leaves you with some extra Cacio e Pepe to put on whatever you like...like toast, grains, veggies, chicken, eggs, spoons.
You'll need:
1 cup grated Parmigiana Reggiano
½ cup grated Pecorino al Tartufo or Aged Pecorino Cheese
1 pound of pasta (I like Spaghetti for this)
1 tablespoon (or more) good butter
Kosher Salt
Fresh Ground Pepper
OPTIONAL: Extra juzzz, spoonful of truffle paste, jarred sliced truffle, shaved real truffle or a splash at the very, very end of real black truffle oil
How to Make It:
Bring a largish pot of salted water to boil. How salty? It should taste like tears or the ocean—don't leave this step out even if it seems like you are using too much salt, you probably are not. Pro Tip: Don't wait until the water is at a roiling boil to see if its salty enough when it comes to about a simmer stick your pinky in or a spoon).
When water is at a roiling boil (big active bubbles), add pasta. Cook to package directions, maybe one minute less for dried pasta.
Place grated cheese in a blender or food processor or a bowl, add several grinds of fresh pepper (depends on how much you like pepper, if you don't really like it just leave it out).
Ladle out about half-cup of the pasta water and add to the cheese & pepper. Blend until creamy.
Pour out into a large bowl (bigger than you think you'll need).
Once pasta is finished, using tongs or a slotted spoon (depending on pasta shape – you'll go crazy trying to spoon spaghetti or tong out penne), move the pasta into the bowl with the cheese mixture (don't worry of some water gets in there- you want that).
Turn, turn, turn the pasta and cheese together—it will start to get creamy—the pasta will absorb the cheese and give up a bit of starch.
Add the lump of butter and turn, turn, and turn again.
Ladle the pasta into a warm bowl (nuke it or just run it under hot water for a bit…you wouldn't think it makes a difference, but it does and why not make it the best…after all it for you and you are the best!).
Add more cheese and more pepper and any extra truffliness you desire.
If, instead of a quiet night in, you are still looking for a party menu Chef Ali Waks Adams' previous BITE column Post Pandemic Party People has what you need here.

---