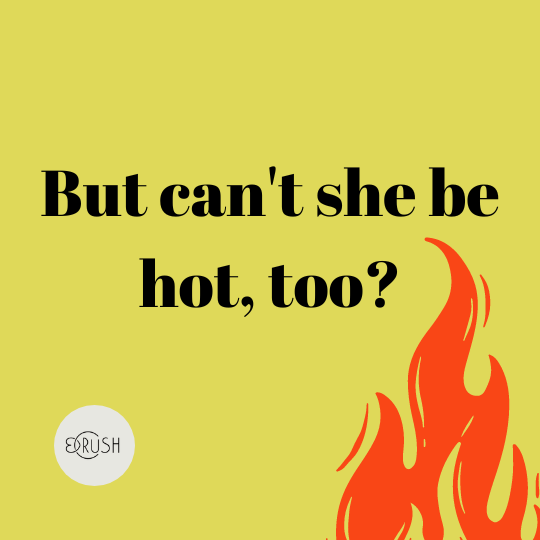 Let's Cool It With the Idea That Women Age Out of Hot
A close female friend over 50 recently told me about bumping into a former high school boyfriend. They shared a friendly conversation catching up. As they parted, he commented that while she wasn't the "hottie" she once was, she was so much warmer.
He truly meant it as a compliment, and she accepted it in that spirit.
But also, ouch.
In so very many ways we women of a certain age are bombarded with the message about our diminishing sexual aura. Its familiarity is, sadly, a big reason that my friend was able to accept her former boyfriend's complicated compliment with such grace.
Another reason, of course, is that she loved hearing about her warmth. Warmth speaks to the sustained work she's done to cultivate an open, courageous, vulnerable heart. In other words, her warmth is, ironically, the outgrowth of her wisdom, growth and maturity.
But can't she be hot, too?
Because by hot, what we are talking about is simply getting noticed, feeling desired and having the ability to turn our lover (or lovers?) on. Why would anyone ever want to give that up?
And why are warmth and heat mutually exclusive solely for women after 55?
I believe the reason many of us women of a certain age were so disappointed with the recent reboot of one of our favorite shows, Sex In the City, was that the characters whose pluckiness and sexiness we had become so invested in in their 30's became unrecognizable as depicted in their 50's. In And Just Like That, it was as if core parts of themselves just vanished with the passing years.
That portrayal hits at our biggest, deepest fear as we age. That we might feel as vital, curious, beautiful, daring, joyful, awake and sexy as we ever were. (Indeed, I certainly do.) But to others we become invisible.
The irony, of course, is that for many of us, we are having the most open, fearless, enjoyable sex of our lives. Even the New York Times has begun to report on it. What is "hot" if it's not great sex?
Thankfully we are beginning to see more female characters over 50 who are powerful, daring, edgy. Most notably, in Season 3 of Emily In Paris, Sylvie Gatreau. Played by the 59- year old Philippine Leroy-Beaulieu, Sylvie is a powerhouse media executive who launches her own advertising agency while, in her personal life, choosing between her much younger lover and her husband. She is a multi-faceted female character who is decisive, principled, ruthless, selfish, vulnerable, loving, arrogant, chic and very sexy.
Sylvie's role evolved from a thinly sketched side character at the series' start to center stage in the latest season, where she steals the show. I mean that literally. Not just because she outshines the star in a series written about a post-college American woman in Paris, but also because Leroy-Beaulieu had been discouraged for the part. The casting director had said that they were looking for a much younger woman. As I've written, 'Merci'! To Emily In Paris for One of the Most Compelling Women in Pop Culture, what makes Sylvie so intriguing is that she owns her maturity and heat in equal measure.
Hopefully, we will see more characters like Sylvie in pop culture, and it will have an impact on the pervasive, outdated idea that women can't be hot after 50+. That bullshit needs to cool off.

The Crush Letter
The Crush Letter is a weekly newsletter from Dish Stanley curating articles & intelligence on everything love & connection - friendship, romance, self-love, sex. If you'd like to take a look at some of our best stories go to Read Us. Want the Dish?


---