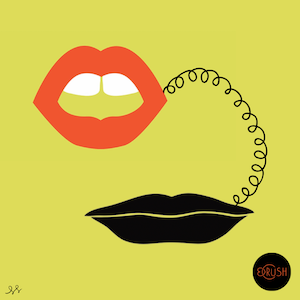 "Hook Ups" is an ongoing feature to introduce our readers to some of our favorite entrepreneurs and small business owners.
Humorously explain your job.
I help clients "get happy" and feel their best from the inside out.
For how many years?
I have been Spa Director for three years and a yoga teacher for 10.
How important is self-care for a good sex life?
Sexual vibrancy and sexual vitality definitely can be enhanced with a healthy mind, body and diet. Healthy blood, cardiovascular system and skin are all enhanced with great nutrition and physical fitness. Taking care of your body with massages relieves tension, promotes relaxation. Additionally, relaxing your body through meditation and yoga can help you to feel more confident, self-aware and mindful, which can lead to better intimacy and relationships.
Can spa treatments for couples help to build intimacy?
Yes, of course, absolutely they do! Massages during foreplay even lead to better sex! The sensation of the human touch is very sensual, which can even turn to sexual. It depends on where the mind takes it.
Are there any yoga poses that help with good sex?
Yoga is an amazing way to connect with a partner, physically, spiritually and, yes, even sexually. Yoga tones up your body, softens your mind, brings energy force inside, increases circulation, relaxes both the sympathetic and parasympathetic nervous systems. Many poses in the yoga philosophy require the yogi to pull up the perineum muscle, and engage by pulling the belly button to spine upon exhalation. These techniques of inner-muscle engagement strengthen the core of the body. When the inner muscles are stronger the orgasm can be enhanced. One other thought regarding intimacy, yoga is a one-pointed, mindful activity that brings your focus to the present moment, as if this moment was the best moment in the world and nothing else matters. If one can exercise that mentality with themselves, then they can also duplicate the sensation with a partner during sex. True focus in the present moment can make for a more intimate moment.
Best way to reach you?
Instagram @barrieroseyoga or via email barrie@yourwalden.com. I offer private Zoom classes, in person classes and all the services at the spa. Visit yourwalden.com for more info.

---