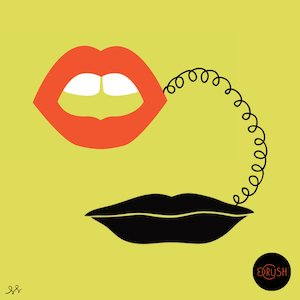 "Hook Ups" is an ongoing feature introducing our readers to some of our favorite entrepreneurs and small business owners.
Humorously explain your job.
I create beauty products for the artistic pursuits, pleasure and empowerment of my fellow humans.
For how many years?
I've been creating beauty for over 30 years.
Why the "Sexiest" beauty? (Why not the "Prettiest" beauty?)
"Pretty" is what you look like on the outside, it's surface appearance. "Sexy" comes from the inside, it's much deeper and more complex. It's how you feel.  It's an attitude. It's what you do, think and say.  #SexyIsAsSexyDoes. It's a state of mind and actions.
My mission for the brand is to tap into and enhance that connection with your authentic inner self through the transformative power of beauty. We embrace the unconventionally, daringly unique individual. Being true to yourself.  That's much more interesting.
What's the sexiest thing you can think of about people in their mid-to-later years?
We are more in tune with ourselves, more authentic. It's not a competition any more. We are finally learning to embrace and love ourselves and fellow humans for who we are. Self-love is sexy.  We're softer, gentler, kinder. Kindness is definitely sexy.
You sign your emails with "Be safe, Stay sexy"—why is staying sexy important, especially as we get older?
Staying sexy is about that mindset, that attitude, that feeling. It's ageless. Of course, society infers that as we age, we lose "it". But I beg to differ. It may evolve as we age, but more like a fine wine as we settle into ourselves. And that goes for everyone, because there is still unfortunately a lot of work to be done to reinforce body-positivity, diversity and inclusion for all humans.  So, I sign off with that reminder, "Stay sexy". You already are, and don't you forget it.
Tell us about the power of a good lipstick?
The power of a good lipstick is like a superhero's cape, a suit of confidence armor. I adore this quote from Issa Rae: "Any time that I have a bright [lipstick], I'm like, 'Here I am. Who's ready for me?' Even if no one's ready."  I feel I can go out and conquer the world, or at least my next Zoom meeting, with one swipe of lipstick.
Your lips communicate your personality and intentions to the world. A bold red imparts instant glamour and va-va-voom, while a soft rosy nude gives the perfect sophisticated polish. Whatever message you want to convey to the world can be done with the subtle innuendo of a thoughtfully selected lipstick. That's powerful!
And lastly, a good lipstick empowers the words you speak. While some say the eyes are the window to the soul, I believe that lips are the doorway to your truth. Your words have power!  So, I want to hear you #SpeakYourSexy with those fabulous lips of yours.  I'm listening!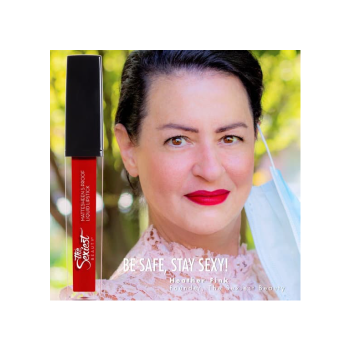 Best way to reach Heather:
IG @thesexiestbeauty
Email Info@thesexiestbeauty.com
Website www.thesexiestbeauty.com
For PrimeCrush Readers:  Heather is graciously offering us Code STAYSEXY20 for 20% off sitewide!

The Crush Letter
The Crush Letter is a weekly newsletter from the Dish curating intelligence & stories on all things love & connection - friendship, romance, self-love, sex. If you'd like to take a look at some of our best stories go to Read Us.


---