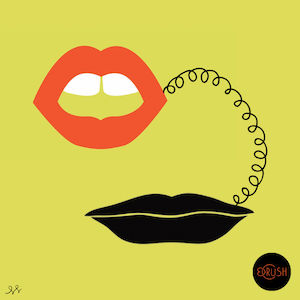 "Hook Ups" is a new ongoing feature to introduce our readers to some of our favorite entrepreneurs, creatives and small business owners.
Humorously explain your job.
I explain people to themselves. After exhausting all mainstream therapies, crisis-driven people seek my advice as a last resort to finally gain clarity, understanding about their purpose and situations.
For how many years?
21
How important is astrology for the perfect love match?
For love relationships to last, astrology is EXTREMELY important. Coordinating Sun, Moon and Rising signs give a basis for mutual understanding and shared acceptance.
For June, are there any days that stand out for love and sex?
For flings, one night stands and quickies: June is YOUR month! From June 1-21 (due to dominant Gemini energy, the June 10th eclipse and Mercury retrograde until June 22nd all challenging dreamy Neptune) this month is super flirtatious, romantically playful and a real sexual fantasyland. Forget—just fuhgettabout—any expectations for lasting romances begun in June. Romance is fleeting and fantastical this month with zero staying power.
What are the hottest astrological love matches in the zodiac?
The fire signs Aries, Leo and Sagittarius. However, mix a Scorpio with any one of those signs and it is a BONFIRE.
Any special love/relationship warnings?
If you're seeking long-term love, wait until the end of June (after June 23rd) for a first connection or date. July and August are infinitely better for creating lasting romantic partnerships. As always, show up honest and real. TRUST your gut and intuition. Ask: Does he/she/they make you feel alive, SOULFUL, light you up from the inside out? If not, expect disillusionment and disappointment.
Best way to reach you?
My website www.hilaryharley.com or directly at hilary@hilaryharley.com. I offer astrology natal/birth charts, current forecasts and solar return readings to understand what's happening for you right now!
The Crush Letter
The Crush Letter is a weekly newsletter from Dish Stanley curating articles & intelligence on everything love & connection - friendship, romance, self-love, sex. If you'd like to take a look at some of our best stories go to Read Us. Want the Dish?


---