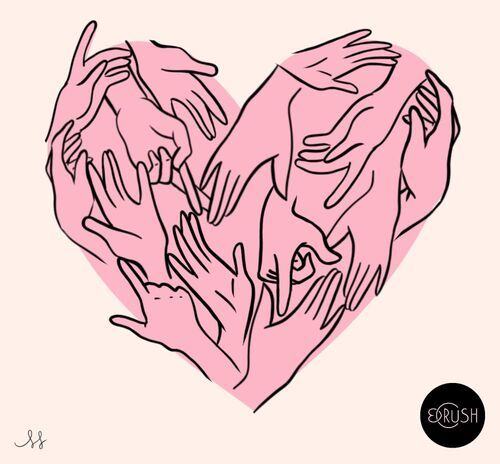 What is the most generous and honest way to begin a relationship?  Alain de Botton makes a surprisingly humble suggestion.
Connection would be easier if, when we met someone new, we began with "And how are you crazy? Because I am crazy like this."  Authentic for sure.  Romantic? Not so much.
Or at least that's what I thought before going on the recent date that I described in The Crush Letter No. 123 as "a lingering, glimmering, very London thing." A delight! What I didn't tell you was that early on, at the bar before dinner, right after my date ordered his cocktail  "vodka – do you have Belvedere? – in a cold glass with ice, large cubes please – a shot of club soda, Fever Tree preferably – with a slice of lemon. Thank you." (I'll admit that Sally's pie a la mode order from When Harry Met Sally leapt to mind) my date looked at me and said "I'm high maintenance."
"Not at all," I laughed in response. "Schweppes Canada Dry is for amateurs."
But from the get-go I loved that he owned it. That he's high maintenance. Not just because I'm a caretaker who, ummmm without even trying, noticed every detail of his order (since my own shit invovles thoroughly indulging somebody's tiniest whims and quirky needs). But also, more importantly, because it's honest. Nobody is low maintenance, really. Once you actually get close to anyone (friend or romantic partner) their unique bundle of needs, fears, longings, vulnerabilities, irrational triggers, unexamined wounds, limitations and what-have-you emerge. In picking up anyone in your life for a real relationship, you're really just choosing which items in the smorgasboard of issues you're willing to take on. (And it goes without saying, they're picking up yours.) It's the people who don't think they're high maintenance that are the most impossible – the lack of self-awareness and introspection is a real obstacle to sustained intimacy.
Anyway, fun, funny and light is a warm way to start any conversation, let alone a date. But his "high maintenance" comment turned out to be the world's best ice breaker because a little while after we got seated at our table (he, having consumed his taj mahal of a vodka soda), I asked him, "So how else are you high maintenance?" (I like an open-ended soft lob that lets somebody roam freely in any direction they prefer - humorous, serious, light, deep. Such a great way to learn about somebody.) His response began something like this: "I just lost 30 lbs, so I'm not eating flour, sugar or pasta and not drinking wine. (It's just sugar.) Only vodka. I have to work out every day ... " And then went on to each of us sharing deeper and real things and funny things, too, about the ways we were each a little fucked up. But it was fun and humorous and real and tender and sort of a beautiful thing, being fuck-ups together in a gorgeous art deco atmosphere dressed up in sexy date attire.
And who knows where it goes, if anywhere, with him in particular but the thing about experiencing beautiful things like that with anybody is that it makes you feel good about not just the other person, but about you yourself (and the guts it takes to be out there, open and vulnerable) and the whole human experience. It's affirming and encouraging. It's like eating up a scoop of joy for dessert – the aftertaste lingers.
It also reminded me of one of my very first essays for The Crush Letter, in which I recommended listening to the On Being podcast episode in which Krista Tippett spoke with Alain de Botton. He is the author of Why You Will Marry the Wrong Person, the most read piece in the New York Times in 2016 (a year that saw a presidential election, BREXIT and a refugee crisis). This particular On Being episode was re-released in March 2021 because it was one of their most listened to podcasts ever.
In it, de Botton argues for a more honest, less splashy start to relationships. (He's talking about romantic relationships but this applies to any kind of relationship. Any kind of human interaction, really.) Acknowledging to ourselves, and then sharing with another, our imperfections as friends, lovers, romantic parters, is the right modest mindset for the true hard work of love, says de Botton.
"Love is a painful, poignant, touching attempt by two flawed individuals to try and meet each other's needs in situations of gross uncertainty and ignorance about who they are and who the other person is. . . [But we'll] do our best."  Humorous in its seemingly absurd modesty, but de Botton argues (and I've come to agree) that it's a much more generous (and honest) starting point for any relationship. It begins with being humble about our own limitations, open to living with another's limitations and realistic about the limitations of the human condition.  Love is not an enthusiasm.  "It's a skill. It is something we learn, and make progress with."
So often we blame our lovers when things get rocky, de Bottom says.  What we should be doing is reconsidering our view of love itself.  This is a realization he came to honestly.  He had, he says, genuinely thought problems in love were the result of being with people who are in one way or another defective, a [view] that was fiercely tested when he met someone who was wonderful in every way. He married her.  And then discovered something surprising. There were all sorts of problems. "And I learned that they had to do with the challenges of being a human being trying to relate to another human being in a loving relationship."  By accepting a more measured understanding of our humanity, we can then get to the hard work of love. Picking up the skills. "Forbearance, generosity, imagination and a million things besides."
Swiping right is easy enough. But we want our love to survive and thrive. And that requires the work of love. For instance, one of the very kindest things we can do with our partners is to be incredibly generous in the way we interpret their (seemingly sulky) behavior, says de Botton.  Can we get an app for that?  ("Is your partner being incommunicative? Before getting annoyed, ask yourself: Did she get a full night sleep? ...") Or an app that reminds us how truly difficult it is for people to change. That reminds us that some of the problem might actually be us. That there is just a lot of mundane shit in life; it's not our partner's fault that not every day is exciting and fun. That we will never fully be understood by someone else, really. How to live comfortably with our existential loneliness. Artificial intelligence will allow us to make a lot of advances in predicting, interpreting (and manipulating) human behavior for sure.  But all that work of love?  It is asking a lot of an app.
Better to begin by ordering a stiff drink, taking a deep breath and begin sharing all the ways that we're each high maintenance.
Here's the On Being podcast. And below is an animated short illuminating some of de Bottom's "darker truths" about love.
The Crush Letter
The Crush Letter is a weekly newsletter from the Dish curating intelligence & stories on all things love & connection - friendship, romance, self-love, sex. Show us some love by slapping our fanny, or (ummm) subscription button, right down there.



---