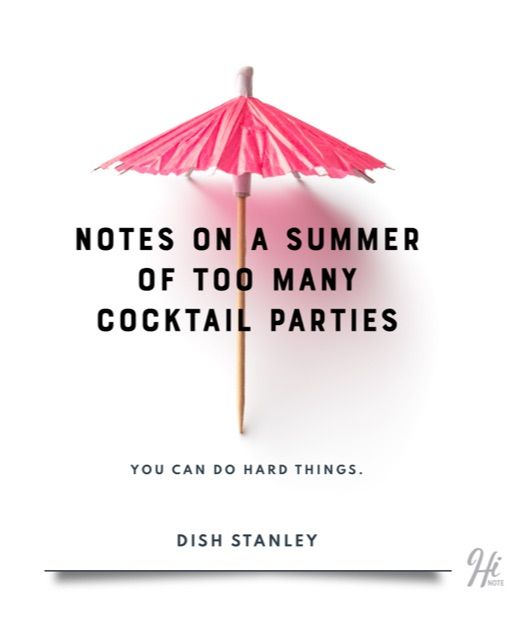 If you don't have children in school, you are likely spending your September in whatever beautiful place you spent your August. Which means you are still "summering." So you'll want to read this, particularly if you haven't tried the lemon-basil granitas recipe from the WSJ or aren't serving Texas Ranch Water cocktails.
In early July I was dead set on settling in for a dormant summer of reading, wellness and gearing up for a very full fall. The summer of 2022 was supposed to be "hot girl/hot guy" summer but was soooo not sizzling. (Or was that just me? Anyway.) Turns out, all that turned around this summer.
It has been a flurry of travel or socializing or sex (or all of the foregoing, if you were lucky) for almost everybody I know. Every time I opened my text there was another cheeky Hi Note inviting me to something I couldn't turn down (I am, afterall, throwing myself into the dating mix).
By the end of August, my energy was more "partied out" than "party on." But then I got word that widely-beloved friends who now live in Paris would be in town. Nobody else appeared to be stepping up, so I reluctantly took the wheel. Cocktails at my humble little summer cottage, followed by dinner for anyone not attending the "Major Charitable GALA of that Particular Night" (whatever it was I can't recall, but there always is one and people always go).
It was a lively, joy-filled night. A success! I had had the benefit of having attended a number of lovely events of various sizes thrown by other gracious hosts by that point in the summer and had made a lot of observations. I offer them up humbly, in case you've got any energy left.
They are exquisite displays, but ditch the cheeseboard. Nobody is eating cheese right now. At one cocktail party, as I headed out toward the end of the evening I walked by a glorious, intricately-created exhibit of fromage straight out of a still life. Only it wasn't a painting. It just hadn't been touched in the over two hours it had been out. I sliced some off in a rare departure from my own strictly enforced summer diet out of sympathy for the host. But nobody wants to be guilt-eating your aromatic Robiola. Is this the moment where hosts need to just admit that Peter Attia and all the longevity influencers have won? I think perhaps, yes.
This is not new (and impossible to rationalize with the untouched cheeseboard) but absolutely everybody ate this zucchini goat cheese tart. It's an Ina Garten recipe, which means it takes ten times longer to prepare than her estimated one hour and 55 minutes, but it also means it was elegant and tasty. For those who were joining for "just cocktails" before running off to the "Major Charitable GALA of that Particular Night") a slice of this gorgeous tart is sustaining enough to get you through a night of small talk. Anyway, it got eaten up, as well as the back-up I had made (just in case). And got a lot of compliments. Plus, did I say it's pretty?
PS: I've made it a couple of times and I add more fresh lemon juice than what the recipe calls for.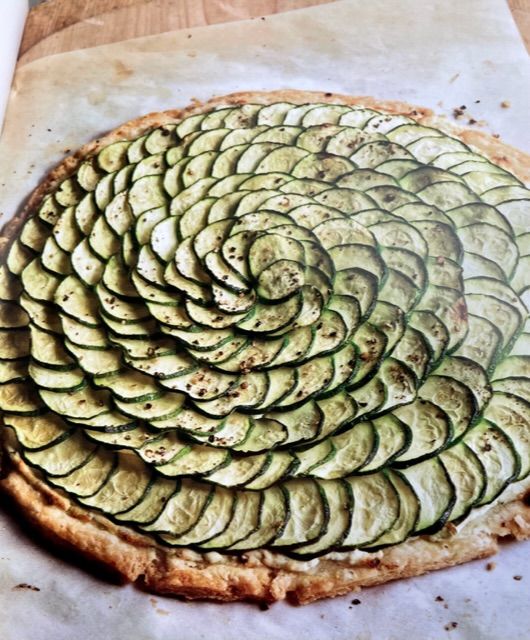 The cocktail that you won't keep in stock. I noticed in 2021 that my healthiest friends had sworn off wine (and all its sugar) for a tequila reposado on ice with a squeeze of lime (no carbs, way less calories). But this summer Texas Ranch Water ran wild. I made pitcher after pitcher. It's a simple three-ingredient cocktail of two parts tequila blanco to one part freshly squeezed lime juice, topped with sparkling water. Over ice. But it's very forgiving, so take those measurements in stride. Cool, crisp, refreshing, enjoyed by everyone eager to take an edge off without putting calories on. (I like using Topo Chico's hint of lime or grapefruit variations for the extra citrus.)
This Lemon-Basil Granita was *such a winner* for dessert and *so easy* to make. I don't typically read the WSJ to get recipes (does anyone?) but ever since my first taste of pistachio gelato in Florence, I have loved frozen Italian desserts. So I was a sucker when I read This Frozen Italian Dessert Is Shockingly Simple to Make. I served it, and it was a unanimous winner. Raves, Crushes. So light and fresh.
In short, you make a lemon-basil syrup by combining 2C water, ¾ C granulated sugar and 1/2t salt and bringing to a simmer. Turn off the heat and add 1C fresh basil. Let sit for 10 min. Strain in order to remove the basil and add 1C fresh lemon juice. Pour the syrup into a 9-by-9 cake pan and let freeze for 1 hour. Use a fork to break up the crystals. Repeat every hour or so for about four hours. Voila!
The Art Thief is the book you'll want to read to be the most interesting person in the room. I will be writing more about The Art Thief by Michael Finkel in the upcoming DEVOUR edition of The Crush Letter. But for those of you who like to jump on things, if you haven't yet, order it now. I am going to go on record in saying that it provides the most amount of interesting conversation across the broades range of people. It is a crime story, it is true, it is historical, it is a love story (of sorts), it implicates European history. It's of interest to both genders. And it's a page turner. A smart date who exclusively reads histories and biographies first recommended it to me early in the summer, and it has prompted great conversation at more than one gathering. I've recommended this book to over a dozen six friends, and all but one have shot back notes saying something along the lines of "Couldn't put it down." And so on.

The Crush Letter
The Crush Letter is a weekly newsletter from Dish Stanley curating articles & intelligence on everything love & connection - friendship, romance, self-love, sex. If you'd like to take a look at some of our best stories go to Read Us. Want the Dish?


---