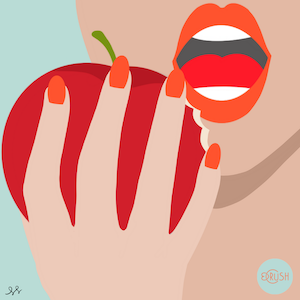 "Bite" is a new, ongoing column by Ali Waks Adams, a chef and pop-up producer from NYC, living life the way it should be in Maine.
A bunch of friends are finally coming over to hang out in person—in real time. I've been cleaning for…I think a month. There were bras and candy wrappers in the couch cushions, spiders in the corners and quite possibly we found an extra cat that we didn't know about.
There are several people whose bottom faces I cannot wait to see and so, so many hugs I am dying to give and I am excited to feed all of them.  I am a food = love person, I was born that way, raised that way and have the therapy bills to back it up. It is my mission to feed people and to feed them to the best of my considerable (if I don't say so myself) abilities.
Planning a menu is like putting together an outfit: You need the basics, then you figure out the combinations and add accessories. A concert tee and tulle skirt works, just like peanut butter braised chicken wings work—but maybe not for every occasion.
My theme for this soiree is a sort of European tapas bar vibe. I think we've all had just enough warm, soft, fatty comfort foods...it's time for vegetable crunchiness, spice and crispiness, juicy and colorful and maybe a little bit challenging, unexpected. We need lots of flowers, string lights and pitchers of cocktails and loud energetic music. I've designed this menu specifically to allow for easy prep—some dishes are store-bought ready. Easy and breezy…nothing that requires too many fiddly bits. One cocktail, a sparkling wine sangria (plus beer and sparkling water) and platters of lovely things that required very little cooking. The focus here is reconnecting with friends (and maybe a little focus on the Smoke Fish Dip, because it's that damn good.)
******
Our Menu
Spanish Olives
Rustic Bread with Herb Olive Oil Dipping Sauce
Sparkling Sangria
Spanish Cheese Platter
Cabrales Blue, Manchego Cheese, Marcona almonds, Guava Paste (Membrillo), Blackberries, Dates, Chorizo + Rosales Rosemary Cracker + sourdough toasts
Smoked Fish Dip*
Steamed baby purple potatoes, string beans, halved jammy egg, endive spears, blanched purple cauliflower, red carrots, artichoke hearts & radishes
******
Have your Spanish olives and bread with dipping sauce waiting for your guests to arrive. You can buy all of this at your local store. If you choose to make your own dipping sauce, I would suggest pouring two cups of fine extra virgin olive oil in a bowl with Herbs de Provence, or picking an array of your favorite fresh herbs, if that's how your garden grows.
Sparkling Sangria
Most of the time I am a classic drink kind of girl, I like a martini (Stoli, up dry, twist and olive on the side), a Rye Manhattan, glass of Scotch (Macs or Glens please, sherry aged if you have it, rocks on the side) a margarita maybe, a gin and tonic (half soda, half tonic, please and thank you), but I do enjoy things that are pink and sparkly and I also love a pitcher drink for a party…you can batch out the mixer and when it's time to refill, anyone can just open a new bottle and pour in the mixers (okay, not anyone, we all have that friend but mostly anyone). Prep ahead of time and put it in the fridge so that it's ready and waiting for your guests to arrive.
Here's what you'll need:
Sparkling Rosé – nothing too fancy, I like a cava
Elderflower liqueur
Rhubarb bitters
Fresh raspberries
Pour entire bottle into a pitcher, add ½ cup simple syrup (store-bought is fine), ½ cup elderflower and 16 dashes of bitters
Serve with bucket of ice cubes and a bowl of raspberries on the side
The Cheese Plate:
I suggest watching a couple videos online of people making fancy cheese plates and make this beautiful. Place the bowl of our lovely dip on the side of a big platter (with a damp bit of paper towel or paper bag underneath so it doesn't slide) and pile the veg up next to the bowl in a potato pile, a quartered egg pile, a radish pile…etc. Look for the expected veg in a different color if you can find it…purple potatoes, red carrots, red endive, yellow wax beans, hot pink watermelon radishes—a lot of these can be found at local farmers' markets, Whole Foods, and Trader Joes. It will keep at least a week in the fridge.
Smoked Fish Dip
This is one of those godsend recipes…easy to throw together at the last minute, super yummy and pretty easy, and it works with almost anything,even if all you have is half a box of club crackers that'll do just fine, heck even cut up toasted English muffins would work (and may be the next genius level crostini—keep an eye out for that recipe).
If you don't do smoked fish…fret not, I've added two options: A smoky meaty one and a vegetarian one at the end.
Ingredients:
8 oz (about half a pound) smoked trout (or smoked salmon or drained cans of mackerel, tuna, sardines, shrimp, oysters – you can also mix it up)
½ cup finely minced shallots
4 oz unsalted butter (cultured nut butter will work if you don't do dairy)
4 oz cream cheese (or tofu cream cheese)
Couple drops hot sauce – I like Tabasco for this
¼ cup fresh lemon juice
Zest from one lemon
¼ cup capers- drained
½ cup chopped fresh dill
Flaky sea salt
Fresh ground black pepper
Minced fresh chives for garnish (chive blossoms if you can find them!)
FANCY Garnishes – Trout or salmon roe + chive blossoms, caviar is also an option
How to make it:
Remove any skin and bones from the fish and mash it up with a fork
Place butter, cream cheese, lemon zest, lemon juice, hot sauce, salt & pepper in the bowl of a stand mixer (or you can just whisk it by hand, which by the way is kind of cardio)
Whip on medium high speed till fluffy
Fold in capers, shallots, fish & dill till fully combined
Taste & adjust seasonings if necessary
Scoop into a wide bowl
Top with minced chives, roe, chive blossoms and a few bits of flaky sea salt when ready to serve
If you hate smoked fish, but like smoky meats, replace the smoked fish with chopped smoked bacon, replace the lemon with red wine vinegar, and the capers with diced pickled jalapeno.
If you don't eat animals, replace the fish with a tablespoon of miso, a half a cup of crushed smoked almonds, and replace capers with chopped, roasted red peppers and add 1 tablespoon sherry vinegar.
P.S. Makes a FAB omelet filling for day-after breakfast and is also very good on a bagel.

The Crush Letter
The Crush Letter is a weekly newsletter from Dish Stanley curating articles & intelligence on everything love & connection - friendship, romance, self-love, sex. If you'd like to take a look at some of our best stories go to Read Us. Want the Dish?


---