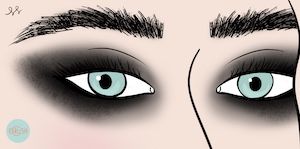 What to wear to a fetish soirée in France? Our in-house expert and regular Edge columnist has some ideas…
"Latex stretches," became my mantra as I tried to find something appropriate to wear to a fetish soirée happening outside of Paris this September. I'm doing a reading from my novel, EDGE PLAY. Because my book was published last summer, at the height of the pandemic, this will be my first live event in support of it. But I'm making my reading brief, because I'm no fool. There will be actual, elite dominatrixes there with whips to command the attention of the crowd. Up against them, a mere author doesn't stand a chance, even if her novel is also about an elite dominatrix taking on one of Wall Street's biggest swinging dicks, and bringing him to his knees.
The party is held every year by Gérard Musy, a top fetish and fashion photographer, and I've seen pictures and videos. It's held in a medieval chapel. There's champagne and great food. People dress for the occasion, wearing leather, latex, corsets. Regrettably, my wardrobe had nothing chapel appropriate, which gave me an excuse to shop.
My first stop was Google. A search on "latex dress designer" revealed that Saint Laurent had a sexy wrap dress in a rich burgundy latex for $4,290. I'd been imagining prices that were much lower, so I kept going. Soon, I found myself on some UK websites -- the English seem to have a knack for producing appealing latex and rubber garments at prices that won't make you faint. My search got narrowed down to two makers:  Catalyst Latex and William Wilde.
I'm in my 50s. Wearing latex at this stage in my life is very different from my 20s, when I first donned a latex dress; a time when gravity had not become my enemy. Fortunately, "latex stretches." It will conform to your body, and the trick is getting it just tight enough to give you a pleasant squeeze, but not so tight where if you sneeze, a seam bursts or a zipper flies open. Moreover, it looks great on most bodies. It's forgiving and smoothing, like wearing a shiny girdle.
Wanting to hide the consequences of aging and of COVID-induced-sloth, I decided on something with sleeves and a high neck. There were two choices, each featuring a pussy bow. I picked the design with contrasting accents. At £160 (or about $220 USD + shipping), the dress would be made to my color and size specifications, a process that would take about one month. Since black and red are the most common colors at fetish events, I opted for a metallic peacock with milky white trim, just to be perverse. I sent in my measurements, and Kit (who works at Catalyst) guided me towards the correct size.
Seven weeks after I ordered it, the dress arrived in New York. I was nervous, as I opened the envelope. Would it fit? Would it suit? It looked tiny, but then I remembered, "Latex stretches." I put it on. My husband had to help me with the back zipper because the latex needed to be pulled taut to be fastened. But it didn't take long before I had that nice, snug feeling and the dress was on. No bra was required, because the latex compressed my breasts against my rib cage and molded to my body. My new frock would be both second skin and armor, the ideal thing to wear for a book reading, on a pervy Parisian night. And maybe I'll wear it back in New York, too. After a year and a half of yoga pants, can't we all use some fashion surprises and a little drama?
If you're new here, you'll want to read Jane's previous stories for PrimeCrush, Reports from the Edge: Skirt Club and Solo at the Sex Party.
An entertaining mash-up of "Fifty Shades" with "Billions," order Jane's novel EDGE PLAY here.
The Crush Letter
The Crush Letter is a weekly newsletter curated by Dish Stanley on everything love & connection - friendship, romance, self-love, sex. If you'd like to take a look at some of our best stories go to Read Us. Want the Dish?



---