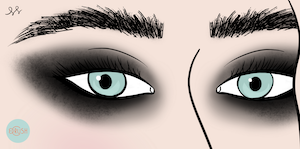 By Jane Boon
Edge Play author Jane Boon's stylish and witty column "Reports from the Edge" offers advice and encouragement on how to escape the bonds of convention, and how to pursue the unexpected and the exciting.
Have you ever wondered what happens at a fetish ball? A Parisian dungeon? A bisexual women's sex party? A bondage seminar? I have. So, I've gone to all of them. By myself.
I tell most people I'm doing it for research, but I've learned a few things about being a solo woman in erotically-charged spaces, which is that most people don't care why you're there, but they do care that you're respectful and polite. Of course, they also want you to have a good time. I prefer to watch, and that is acceptable and common. There are lots of first timers in these milieus who just want to observe what happens, and who are there to soak it all in.
Although these evenings might seem mysterious and inaccessible, they aren't hard to find. I've identified many amusing opportunities through FetLife.com, which positions itself as Facebook for BDSM enthusiasts. Don't be scared off by the site's emphasis on kink: BDSM is a broad spectrum of activities, from the mild to the wild. Moreover, it's easy to do a search by city, and then to see what events are happening (look under FetLife's events tab). I've found out about organizations like SkirtClub.co.uk through magazine and newspaper articles. I follow many on social media, and there's almost always a mailing list to alert prospective participants to any forthcoming parties. My mailbox is filled with unusual possibilities, and even if I don't partake very often, it thrills me to know that others are out there doing outrageous things.
At the fetish ball (found via FetLife), I danced with men half my age and watched some BDSM scenes. I never felt pressured to do anything, and I never felt lonely, there was so much going on. At the Parisian dungeon, I watched the dominatrixes in action and made small talk about restaurants with a random gentleman in a PVC French maid's outfit. At the bondage seminar, I watched Shibari enthusiasts practice their craft. And at the all women's sex party -- I was the voyeur, serving the exhibitionists.
Perhaps it's by dint of age—I'm now 53—but there's never been any effort to push me beyond my comfort zone, even in the most outrageous spaces. I've gotten offers, sure, but a smile and a "No thanks, I prefer to watch," is all it takes. The question of consent is taken so much more seriously and clearly now than when I was first visiting these outrageous spaces in my twenties.
Nora Ephron wrote a book about being a Wallflower at the Orgy. It's a great title and a funny idea, but there's nothing wrong with going to the orgy and standing back. There's something exciting about being in spaces where pleasure is prioritized and emphasized. And even if you don't feel moved to participate, there's plenty to soak in.
So, if you've ever been curious about what happens behind closed doors, open them and step inside! Sure, it can be fun to have a sidekick for an excursion into the demi-monde, but don't let that stop you if you can't find a suitable partner in crime. Go by yourself. See how it feels. Enjoy the energy and the outrageousness of it all. Be a gangster for the night, and go. And if you feel so moved, go again, because who knows what could happen the second time around.

The Crush Letter
The Crush Letter is a weekly newsletter from Dish Stanley curating articles & intelligence on everything love & connection - friendship, romance, self-love, sex. If you'd like to take a look at some of our best stories go to Read Us. Want the Dish?


---