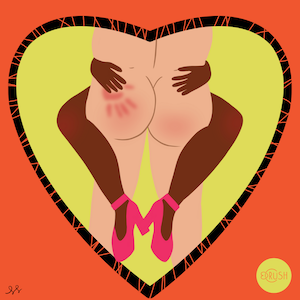 An occasional pop-up where we share the songs that make you want to bang. Got one?  Send it to me at Dish@PrimeCrush.com.
Song Title
"I Hate Myself for Loving You"
Artist
Joan Jett
What about this song musically does it for you?
I confess—I debated whether or not to choose this song or Joan's cover of "Crimson and Clover", but because the category is "Songs That Make You Wanna F*ck" and not "Songs That Make You Wanna Have Steamy, Sultry Lovemaking To", I chose this one. There's simply something relatable about hating yourself for loving someone, because, let's face it, the feeling generally comes from a place a white-hot passion.
Is there a memory you attach to this song?
Hmmm…nothing I can think of, only the deep—very deep—desire to find someone to grind with whenever I hear it.
Who/what are you thinking of when you listen to this song?
Something hard and satisfying.
Anything else...?
The absolute truth is: Anything Joan sings becomes an anthem for sex. Because it's Joan Jett, and she's the sexiest woman in rock 'n roll.

---