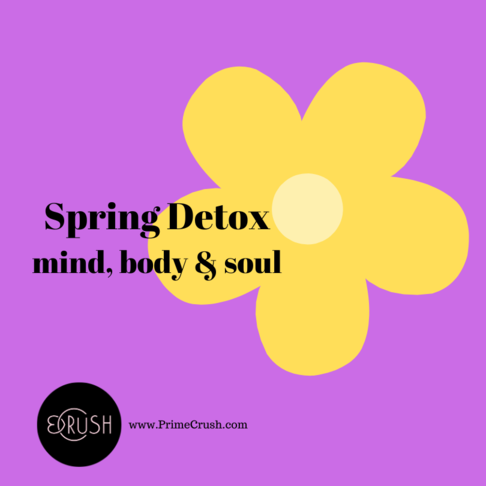 If spring is all about rebirth and renewal, now is as good a time as any for a full detox. Mind, body & soul ... among other things, it's about forgiveness. Here's a complete rundown.
Spring has always been my favorite month. I marvel as I observe flowers push through the hardened winter earth and sprout, their tight buds magically unfold and gift us with fragrant, rainbow-colored petals. Trees come alive. Their barren branches awaken with pliable, vibrant green leaves and like arms outreached, embrace the sun, and invite you to dance and sway in the breeze. Birds loudly chirp and congregate as if they are sharing raucous neighborhood gossip. They flit from tree to tree putting time and energy into preparing their nests.
It's a time of rebirth and renewal. Take a cue from Mother Nature and shed your winter coat, stale routines and outdated ideas that no longer serve you. Welcome an opportunity to revamp and recharge.
Here are a few ways you can detox and usher in a new season with optimism and vigor!
DETOX YOUR ENVIRONMENT
Remember, what surrounds you ends up affecting you. Open your windows, clean up the surfaces and air in your household because you shouldn't be inhaling or eating chemicals. Avoid plug-in air fresheners. Instead, keep as many plants in your house as possible. (Just make sure they are suitable for indoors.) They are natural air purifiers and beautify your home.
TRY: Spider Plants (or Chlorophytum comosum). They are easy to grow and don't require constant attention. (That's good to know because I do not have a green thumb and have been known to kill a six-foot cactus!) Toss the toxins and adjust your cleaning products with all natural solutions like white vinegar and water or products with minimal ingredients.
TRY: Humble Suds All Purpose Cleaner, safe to use on porous and semi-porous surfaces. Made with castile soap, rosemary and essential oil. $14.95, humblesuds.com

DETOX YOUR MIND & BODY
Get off your phone, computer or other electronic devices. Stop mindlessly scrolling, binge-watching, or whatever has you in a comatose state or high alert. Remove yourself, whenever possible, from toxic people, places and things. The body, our emotions and thoughts are all connected and affect our well-being. Anxiety, depression and feelings of pessimism have been associated with inflammation. Create some space to sit in silence. Without judgement, let whatever thoughts that pop up come and go. Moving your body is another incredible form of detoxification. If you are not into meditating, attend a yoga class, do a few stretches on your living room floor. Put on your favorite music and dance like no one is watching. Go for a walk in the park and pay attention to the colors of the blooming flowers, the sounds of nature and just breathe. Don't forget to hydrate with water, before, during and after exercising. (It assists the kidneys in filtering out toxins.) Your body will thank you.
TRY: Essentia Alkaline Water, 1.5-litre bottles, 12 pack. $24.29, Amazon.
TRY: Guided Relaxation for the Body and Mind (Audio CD), $12.95, Amazon.
DETOX YOUR SOUL
When you are dealing with issues, feeling exhausted, overwhelmed, holding grudges, or needing to begin the process of healing, a soul detox may be what you need in order to feel connected to yourself and others. After the death of a loved one, a relocation to another state and job changes, I was depressed, easily lit and always on the verge of spilling my tears and guts to complete strangers. I was a hot mess and needed help.
To heal and get back on track, I personally recommend the following to bring a sense of peace to your soul:
Practice Gratitude. Recognize what you are grateful for, acknowledge it and appreciate it. Each day think of three things you are thankful for. For me, it's my family that continues to offer support, my daily, must-have freshly-brewed, hot cup of coffee and my posse of girlfriends   that have shown me love and acceptance.
Spiritual Cleansing Rituals. Remove negative energy by burning white sage. This ancient Native American tradition involves burning bundled sage and waving the smoke around the body and in the home to rid the area of unwanted negative energy.
TRY: Home Cleansing and Smudge Kit, $18.97, Amazon.
Take an Epsom Salt Bath. It's a simple and relaxing ritual to draw out negative energy and promote relaxation. Epsom salts contain magnesium which can reduce stress and anxiety. Sit in the bath for at least 15 minutes allowing the salt to absorb negative energy. Focus on releasing negative thoughts you may be holding onto.
TRY: Detox Babe Bye Bye Toxins soak. $35.00, getdetoxbabe.com
DETOX YOUR MAKEUP BAG
I don't know about you, but my purse is overloaded with STUFF, especially my makeup case. (it's bulging with too many pink lip glosses that are practically the same color). If you carry a makeup bag may I suggest dumping everything and begin editing. Get rid of old, dry mascara that smells. Toss out that compact face powder that has an oily film and looks dirty. (It's loaded with bacteria…YUCK.) You get the picture? Try to downsize with mini palettes or multi-purpose items.
TRY: Freck Beauty Cheekslime Blush + Lip Tint with Plant Collagen. $26.00, Sephora.
NYX Wonder Stick Contour and Highlighter Stick STICK CONTOUR AND HIGHLIGHTER STICK. $14.00, nyxcosmetics.com
FIND FORGIVENESS
Personally, this is something I struggle with and need to work on. Finding forgiveness helps to let go of pain, anger and resentment and allows us to move forward.
TRY: Writing a letter expressing your feelings to release the negative emotions, then rip it up, burn it or toss it away. You can visualize the person or situation you need to forgive and send them love and light. Practice self-forgiveness as it helps us to be kinder and more compassionate to ourselves.
We often forget that we are bombarded and over-stimulated throughout our day and that can have a negative impact on us. Making the time to detoxify our mind, body and soul helps us to begin functioning in a healthy manner again. Only when we feel whole and not burned out, can we be open to receive all the gifts that we are blessed with.  It's time to stop and smell the (spring!) roses.

The Crush Letter
The Crush Letter is a weekly newsletter from Dish Stanley curating articles & intelligence on everything love & connection - friendship, romance, self-love, sex. If you'd like to take a look at some of our best stories go to Read Us. Want the Dish?


---