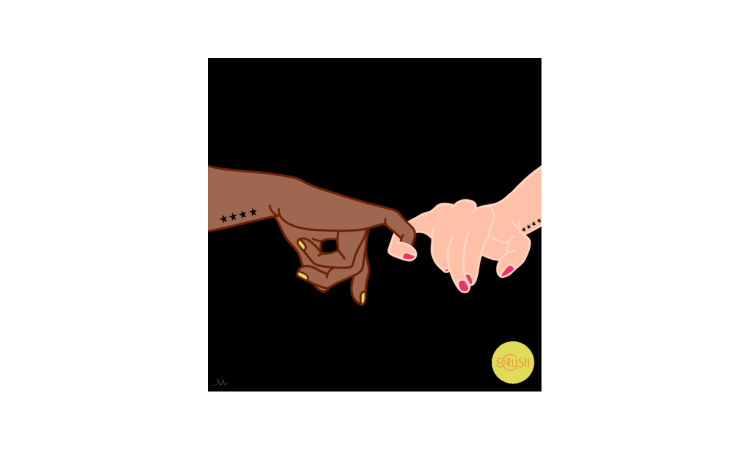 My father often told me that one would be rich in life if they had just one friend. A real friend. A person who would traverse life with you through the good, the bad, and the ugly. You may fight with them and cry with them, but you'll laugh with them and love with them. Sometimes, you may not want to talk to them, but you know they are there.  And if a long time goes by when you don't speak to them, you will eventually pick up exactly where you left off, as if no time passed at all.
For some reason, the universe has paired you with this person. If you journaled the notable moments shared with them, you'd have volumes. This new column tells some of those stories.
I am an only child.  I have never rued the absence of siblings, and I relish every childhood moment spent in the solitude of my room, writing poems, reading books, playing guitar, eavesdropping on grown-ups, and daydreaming.
The closest thing I've experienced to sisterhood is the friendship I share with three women I've known since nursery school. Between us, we've had four Holy Communions, five marriages, six children, and four divorces. Three of us once spent a particular New Year's Eve trying to get the fourth out of jail. We've celebrated the milestones of our children, and held each other at the passing of our parents. We live in four different cities now, but make a point to get together at every possible opportunity.
One such get-together took place on a chilly Spring morning when we met for brunch at the Greenwich Village bar we've frequented since getting our hands on our first fake I.D. Over champagne and French toast, we discussed politics (until a fight broke out), a son's new job, a kitchen renovation, a trip to Iceland, Eastern medicine, and my daughter's massive tattoo.
"We should all get tattoos!" said the one who was most drunk.
"You don't have the balls!" I snapped back, challenging her.
"We'll do it next time I'm in town. We need time to think about a design."
Refusing to let this moment go by, I suggested we each get four small stars of different colors, each star representing a member of our pack. As we finished our meals, we scrolled through our phones to find a tattoo parlor open on a Sunday morning. With no results, we decided to go for a walk instead.
We stopped at a liquor store for more champagne, then made our way to the large city park where we played as kids. We climbed up to the bleachers and drank the champagne from paper coffee cups, reminiscing about the hundreds of hours we had spent here. Each story played out like a home movie before our eyes, with scenes of softball, swimming, bocce, and boys.
We left the park and walked uptown through our old neighborhood when we came across a familiar storefront that had been taken over by a headshop. Through its grimy window one could see scores of bongs and pipes, with a sprinkling of dildos thrown in for good measure. Then, like a rose in the desert, stood a hand-written index card that read, "WE DO TATTOO."
"Look!" I screamed, pointing to the card. Emboldened by champagne, I walked through the doors of iniquity, as the posse followed for protection. The tattoo artist/bong salesman/dildo merchant spoke little English, but somehow the thrifty one in our pack convinced him to give us a rock bottom price since we were all getting the same design.
Wanting to "just get it over with", the cautious one in our pack went first. She cried all the way through, while the compassionate one in our pack held her hand before taking her own turn. Having naturally birthed three boys in four years, she didn't even flinch.  The thrifty one in our pack went next, still trying to negotiate a better price with the owner as he dug his instrument into the top of her right buttock. I went last, as everyone watched, shaking their heads at the absurdity of it all.
When it was time to say goodbye, we made a pact to watch for signs of Hepatitis C, then went our separate ways.
Yes, I am the impetuous one in our pack and -- truth be told -- I regret our decision. Ours are the ugliest tattoos I have ever seen. But each time I happen to glance at the figure on my right hip, I am reminded how we have been blessed with a lifetime of love, and I make a silent wish upon our tiny stars that we four will forever remain as close as this ink is to our skin.

The Crush Letter
The Crush Letter is a weekly newsletter curated by Dish Stanley on everything love & connection - friendship, romance, self-love, sex. If you'd like to take a look at some of our best stories go to Read Us. Want the Dish?


---