Sex Could Be A Playground But We're Treating It Like A Cubicle.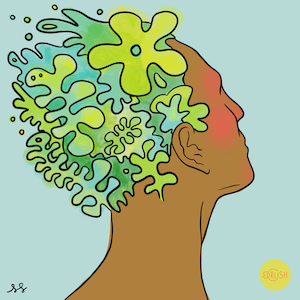 Erotic imagination is the essence of creativity and vitality, and a necessity for feeling truly alive.
Esther Perel, the renowned psychotherapist, talks a lot about the erotic imagination. Among the serious relationship therapists who are her peers, only she has made it a major focus of her work. I first understood why when I heard her as a guest on the Tim Ferriss show, where she spent considerable time describing her childhood and its profound influence on her worldview.* Raised in Belgium by two Holocaust survivors in a community of children raised by survivors, Perel speaks about how she noticed even as a young girl that some people survived the Holocaust, but others were alive. The difference, according to Perel? The creativity and vitality of the mind - erotic imagination.
In "Bringing Home the Erotic: 5 Ways to Create Meaningful Connections with Your Partner," Perel says: "The central agent of eroticism is our imaginations. The most overlooked erotic organ is our mind."
Though erotic intelligence is important to a loving relationship, to think of it exclusively as something that links you to others is missing the point. Eroticism is a about you, your self-care, your own vitality and thus, your relationship with yourself. Do you want to feel alive - separate and apart from whatever you've got going on. Do you want to be alive? It's a commitment to yourself.
You are the responsible party for your desire.
Desire is a life force, and erotic imagination is the source of it. "We carry the responsibility of our desire," says Perel in "Why Eroticism Should Be Part of your Self-Care Plan." Why? Because desire is an expression of our free will. Nobody can force us to want. So if it is ours, then it is also our responsibility to activate it. We can turn ourselves on and we can turn ourselves off. We can have thoughts that will instantly shut us down and thoughts that will keep us open to possibility and curiosity.
This may be hard to hear for people who like to link their desire to a partner, but according to Perel it starts with the individual. And it requires a practice.
Sex could be a playground, but we're treating it like a cubicle.
It's the erotic imagination that transforms sex into a something that makes you feel alive. Perel speaks at length about how sex can be an animalistic, biological desire, using no more brainpower than it takes to empty the trash. But she goes on to say that we can elevate sex by using our ingenuity to make it feel new each time. When we don't, sex doesn't even count as erotic; according to her, "Eroticism isn't sex; it's sexuality transformed by the human imagination."
A sense of routine undermines any sense of surprise, suspense or longing. How can someone possibly long for something they are tired of? People who cook the same meal over and over will come to tire of it, if not loathe it. And people who have the same kind of sex repeatedly often find that they no longer want it. Their desire plummets. Perel believes that we can solve it simply by engaging our minds. During her interview on the Ten Percent Happier podcast hosted by Dan Harris (at 24:25), she talks about how our imagination is the gateway to adding artfulness—even poetry—to sex. There's nothing basic about sex, especially when we aspire to create rather than to climax—though that's important, too.
How to engage the erotic imagination? Explore what brings you vibrancy. To each their own - creativity is the heart of the erotic - but we have ideas: reading erotic literature (Vox by Nicholson Baker is a great place to start - if you have a partner try reading it aloud to each other); trying a new sex toy or product; perfecting your sexting (we love Foria's Guide to Sexting); reading some erotic poetry aloud (we might begin with Charles Simic's Breasts). Perel provides a sampling of some of the best steamy movies in "The Best Steamy Movie Scenes and Why You Should Indulge."
The erotic imagination is a reminder that we're not just literal beings. We're mysterious, unknowable souls. We can explore and play and connect with our vitality and the things that make us feel alive. It's important for sex and our relationships. But the magic of the erotic is something we have to own for ourselves - the responsibility for knowing how to switch it on, and the commitment to do so. It's the essence of life.
*The show's first twenty minutes on growing up in the Flemish "hood," on her mother hiding in the woods for a year to escape nazi's, on the five languages spoken at home and sitting in her parent's dress shop observing in detail the ways people related are not only the high point of the podcast, but also the only place where she's gone into the significant detail on the background that shaped her.)
Esther Perel has many specific resources on the erotic, here are some of our favorites. Blog Posts: "Why Eroticism Should Be Part of Your Self-Care Plan," "Bringing Home the Erotic: 5 Ways to Create Meaningful Connections with Your Partner," "How to Introduce Role Play and Fantasy into Your Relationship."
Videos: "What is Erotic Intelligence?" "How Eroticism and Fantasy Can Help You Embrace A New Year"
Podcast: "The Erotic Is An Antidote to Death" On Being with Krista Tippett
If you're only going to take in only one thing on Perel and Desire then it should be the podcast podcast: Cultivating Desire" [The Knowledge Project Ep. #71] Farnham Street with Shane Parrish

The Crush Letter
The Crush Letter is a weekly newsletter from Dish Stanley curating articles & intelligence on everything love & connection - friendship, romance, self-love, sex. If you'd like to take a look at some of our best stories go to Read Us. Want the Dish?



---