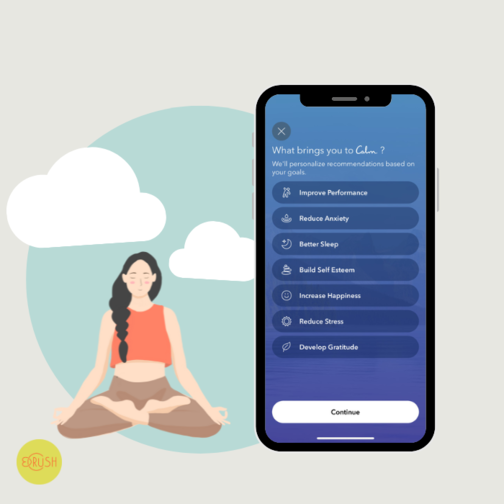 If you love the practice of using apps to quench anxiety or drift off to sleep you might—big "might"!—love using this one.
When I started the process of writing this review, I hadn't realized I'd actually downloaded the Calm app years ago and never used it--quickly understanding why. I have a solid meditation ritual already in place, and am extremely discerning of "practices" you have to pay for. So, straight off, I have a bias.
What's more, for some folks (and I am one of those, apparently) don't align with apps for this kind of purpose. I find it slightly un-calming to take the initiative to open an app to achieve "calm."
Financially, this isn't all that cheap, either. You can apply for a free trial with consent to subscribe and "cancel any time." After a seven-day trial, you'll be automatically enrolled. The price at the time of this writing is $69.99 per year or $14.99 per month. I opted for the yearly price.
Once you've put in some identifiers—so the app knows your goals, likes, all about you—you'll open the app, as I did today, and it asks, with an array of varied smiley and downtrodden emojis to choose from, and let it know how you're doing. Today, I'm unsure, and I tell it so with hesitancy, mostly because I'm afraid of where and how exactly this information is being used in the world of app non-privacy.
In the background, I can hear the sound of ocean waves, an immediate dopamine rush, and for that, I am grateful. This is my favorite part of this app so far and what I come back for (when I remember). I am a gigantic fan of ambient sounds and until the Calm app, I've been getting them for free on YouTube.
Scrolling down a bit, I'm offered various curated daily inspirations. I like Jay Shetty and he has a message for me today entitled "Learn to Fall." In fact, there are three mini-lessons from Jay on this list, as well as several beginner meditation courses, all incredibly well done, if you're just starting out. (I am not and told them so…still wondering why they keep sending me these.)
There are many apps out there that claim to help you get calm—Calm got the best reviews and, as you may already know from their remarkably effective marketing, have celebrity-read bedtime stories (that's simplifying…though not really). I remember Harry Styles being features in all those ads, with a 39-minute lull-me-to-sleep "Dream With Me," monologue that is, in fact, quite dreamy. Cillian Murphy, Matthew McConaughey, Alan Sklar, David Walliams, and so many more, offer soothing words on sleepy-inducing tones to help you achieve sweet dreams.
Although these are remarkably well done—and achieving good sleep was one of my main goals with this app, as it is in life—I don't gravitate towards these for some reason. I would recommend though, and the production is excellent.
My other personal goal was anxiety reduction, and I was hoping the app would offer some guidance for how to achieve that. They do. They have meditative, chill-out remixes, perfect if you like chill-out music.
Perhaps one of my favorite elements is the movement feature. On my app, and not sure if this is true for everyone's yoga and meditation teacher, Mel Mah, , has created short, simple, instructional guided courses for every mood in every variety. She is purely cheery and wonderful and worth the price of the app alone. That said, even Mel Mah, who I obvious like and endorse, is not enough to make me keep going back, as I don't like performing these kinds of exercises on my phone and prefer a larger TV-sized screen.
In sum, I highly recommend the app—for people who gravitate towards apps. Calm has fantastic reviews and ratings for a reason: Everything they do is exquisitely produced and well thought it. Apps, for me, are never truly personal no matter how "personalized." If I traveled or still worked in an office, I think I would rely on this app heavily for ready-made calming help. However, as I'm primarily homebound and someone who has everything I need here, I personally gravitate towards the old-school no-tech approach.

The Crush Letter
The Crush Letter is a weekly newsletter from Dish Stanley curating articles & intelligence on everything love & connection - friendship, romance, self-love, sex. If you'd like to take a look at some of our best stories go to Read Us. Want the Dish?


---