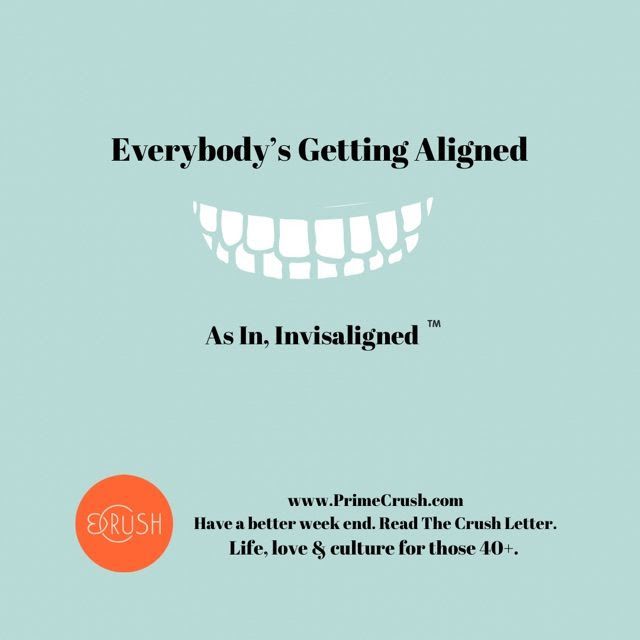 Invisalign feels like Aperol Spritz in the summer of 2021. Remember how all of a sudden everybody was drinking it?
Almost everyone I know over 50 is on, done with or about to start Invisalign. Over Thanksgiving my Mother mentioned to me that one of my bottom front teeth was shifting. (Actually she said "What's wrong with your teeth, honey? The front one is protruding disturbingly.") Until that moment I hadn't thought anything was wrong with my front tooth. Perhaps she can be excused for the alarmingness of her tone because she spent my teens driving me to and from an orthodontist who we later learned from local news reports was having simultaneous affairs with both his dental hygienists. (He lost his business due to the sexual harrassment suits. Evidently, each of them had though she was the "exclusive" extramarital affair.)
Anyhow, that's how I ended up on Invisalign. Two nights after that I was at a friend's for dinner; she had started six months earlier. Playing golf a week later, a husband and wife had both just started Invisalign (although he admitted he didn't see how he could sustain it for two years). I then went away with four girlfriends and everyone on the trip was wearing them, about to or had just finished.
Kudo's to Invisalign's marketing team. It's shot up as the most common procedure for those of a certain age, even more than botox, teeth whitening or (god forbid) strength training in my circle. (But then again "my circle" is highly populated with sybarites.) Comparing notes with all these friends I've realized that the advice we got from our dental practitioners was anything but aligned. Here are some things you might want to know:
Some Friends Were Told You Can Eat & Drink While Wearing Invisalign. I was told to take them out when imbibing anything other than water, but some friends were told they could leave them in. Don't even try it. You really have to take them out or they get gross, and turn an unsightly tangy yellow at the end of that round. Taking them out every time you eat and drink is a pain (at least if you eat and drink as much as I do). Not only is it indelicate to extract them in front of others (if you, for instance, forgot to take them out beforehand), but also unless you carry the little container around with you everywhere (and I lost mine by week two), you are sticking them in pockets or on tables or wrapping them up in kleenex and then forgetting where you put them. (And then absolutely definitely throwing them out the kleenexes with the invisaligns in them.) The little carrying container you get doesn't fit into pockets. You need a system, and my friend Beth swears by hers - keeping a ziploc bag in her pocket.
I Was Told to Wear Them At Least 22 Hours A Day. Others were told 18-20 hours was enough. I mean, I am eating for more than two hours a day. "That's mutually exclusive advice," I explained that to my dentist when he told me to wear them for at least 22 hours per day but take them out whenever I ate or drink anything other than water. Twenty (or 18) hours is the advice a lot of my friends got, so I'm going with that.
Some People Get One Year Treatment Periods, Others Two. However, comparing the length of time with my friends it wasn't obvious how to reconcile why some (whose treatments were mostly cosmetic) were longer (two years), while some (whose treatments were correcting serious bite and tooth decay issues) were shorter (one year). Most people were on a two-year plan, so that seems to be more common. But wouldn't we all prefer to do it in one year if we could? I'd certainly ask (meaning, push for that) with my dentist if I were starting now.
I Was Told to Wear Mine for Two Weeks Before Cycling Into the Next Set. But I forgot (because, as my friend Lisel does not hesitate to point out, you're an improbable scatterbrain). So for the first three months I switched to the next (tighter) set weekly instead of every two weeks. When I called to schedule the appointment to set me up with another round, the receptionist got my dentist on the line. "How can you be done with the first round already, he asked?" We figured it out, obviously, but still I needed a new set.
Something interesting happened. When I got in his chair my dentist assured me that I wouldn't see as much progress as I should have because I "rushed the process." But when I asked him to show me the scan of my teeth and to highlight the before and after, there had been p-l-e-n-t-y of progress. A lot of progress. Enough progress for me. And so, when my new set comes in I'm going to switch those out weekly again despite my dentist's admonitions. Because there is enough variation in treatment programs for me to think this is a protocol with some "wiggle room," and who would want to prolong this?
Absolutely Nobody Was Told This One Piece of Advice That Is the Gamechanger That Everyone On Invisalign Needs. Hopefully you all have a friend like my friend Kathy, who goes the extra mile and really researches things thoroughly and always knows the smartest way to do things. Kathy figured out that the best way – but I am going to tell you that it is the only way – to clean your Invisalign is with retainer cleaning tablets. (Because the invisalign retainers don't get fully cleaned with your toothbrush even if you, like I, use a powerful automatic toothbrush.) You get some cleaning crystals with your retainers but they are not enough. Nobody's dentist suggested this! Surprising because they get a little icky after a couple days.
Also – in case you're wondering – Kathy called her dentist to make sure that using a retainer cleaning tablet with Invisalign was okay and he said it was.
You're Never Really Done With Invisalign. This is the worst news I learned (which my dentist failed to point out). I learned from a friend who had just "completed" her two-year invisalign treatment that in order to keep your teeth fixed you have to continue wearing an invisalign retainer overnight for the rest of your life. After going through the hassle for a year (or two), who wants to lose all that effort?
Just when you thought you were done with that ever so slightly awkward, real-world step of having to extract your retainer when you and/or your partner got in the mood once you'd already geared up and gotten into bed. Although, truth be told, at this stage of life we have no doubt started to get accustomed to real world moments creeping into our intimate moments.
Their subscription revenue model is a homerun for Invisalign! They have income for life from their users. For those of us on invisalign, it's a habit we wish we could break but won't. Remember that saying "to smile is to brighten the world for free"? Forgettaboutit. Invisalign has made it obsolete.
*This isn't medical advice. In fact it may even be quackery. Check with your doctor, yada yada.

The Crush Letter
The Crush Letter is a weekly newsletter from Dish Stanley curating articles & intelligence on everything love & connection - friendship, romance, self-love, sex. If you'd like to take a look at some of our best stories go to Read Us. Want the Dish?


---