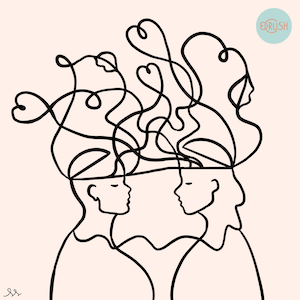 We challenged one PrimeCrush contributor to play Esther Perel's sold out new card game Where Should We Begin? and what she got was not at all what she was expecting.
In case you haven't heard, world-renown relationship expert Esther Perel has created a card game of insightful and provocative questions called Where Should We Begin? which, according to her website, was designed "to introduce playfulness and storytelling into your next date, dinner party, or intimate get together." The game sold out in a flash, and there's currently a waitlist—and much anticipation—for the upcoming September shipment. I was lucky enough to borrow the game and, knowing it can be played one-on-one or in a group of friends, I opted to play with my husband, anticipation intact.
This is a card game involving a series or questions with varying degrees of intimacy. Each question card has a symbol indicating what type of question it is (the sex ones have a pink triangle). You don't have to answer every question, you can pass unless a player tokens you—then you have no choice, you must answer the question. While there are no  actual winners or losers, we all win just by playing because we learn about each other and we grow as people. I love games. However, I'm very competitive, and my favorite thing about playing games is winning them. Some people do not enjoy playing games with me, one of those people is my husband.
There is a Yiddish saying: "Mann Tracht, Un Gott Lacht." Meaning: Man Plans, God Laughs. Here's this thing about planning a sexy night in with your long-term partner, timing is everything. I scheduled our sexy night in on the only night this month I didn't have to work and we didn't have visitors (we live in a vacation destination). We were both rather exhausted and frankly resentful of each other for various and sundry minor indiscretions. It was a perfect storm.
The game itself was not at fault…but I was mad at my husband for leaving bags of redeemables in the foyer causing flies to accumulate at a terrifying rate and tensions were high. When he pulled the first card and read "I think the concept of marriage is…", he answered, "Are you f**king kidding me?" I certainly did not feel that we were in a loving enough space for me to announce that my most consistent sexual fantasy is one in which he plays absolutely no part whatsoever and maybe I answered the question I get bored during sex when…. with "WHEN THERE ARE A HUNDRED MILLION FLIES IN THE HOUSE!"
We tried, there were a lot of truly insightful questions, some of which are quite terrifying to share like The last lie I told was and The one who got away… and, of course, the worst thing I've ever done to someone is….
Since our game ended in tears I decided to play with myself. These are my answers to the cards I had in my hand when gameplay was aborted and we called a forfeit:
Q: If I could choose the way I'd die I'd pick…
A: Not even knowing it was happening, I'd like my last thought to be "What the Fu…."
Q: My most cringe-worthy sexual experience…
A: Involved a very, very, very small, basically thumb-sized penis…and the other one involved one the size of a baby's arm holding an apple…I'm very much a Cinderella when it comes to dicks.
Q: If I could whisper something in the ear of my younger self, I would say…
A: Body Fat is not a fatal flaw, it doesn't make you a bad person, and it's nothing to be ashamed of…I would also have whispered this to myself yesterday.
By the end of our first attempt of Where Should We Begin?, that delicious banana crumble was gloweringly hate-eaten standing in the kitchen even after taking a full 20 mg cbd gummy.
I have only begun playing this game, there are boundaries of honesty that I am not comfortable with. In order to "win" this game I need to cross those boundaries and be open and honest with myself, my partner, my friends and family, my whole frickin' life. It's the scariest game ever, and I can't wait to play again.

The Crush Letter
The Crush Letter is a weekly newsletter curated by Dish Stanley on everything love & connection - friendship, romance, self-love, sex. If you'd like to take a look at some of our best stories go to Read Us. Want the Dish?


---