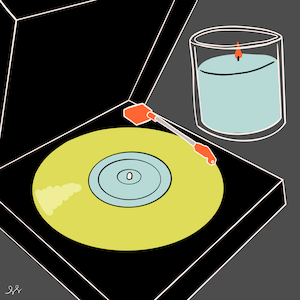 A compilation of tunes sure to get you in the mood.
Nothing is more surefire romance than a turntable and a candle. You can spin some vinyl on your vintage Garrard turntable (with a Shure M-91ED needle). Or you can playlist these tunes or even do a Siri shoutout, though in the name of romance I'd advise skipping the last option.
Here's a compilation of tunes sure to push your mood buttons big time and in all the right places…and put all systems on "go":
"Lovesong" by The Cure
Simply a perfect love song composed in a minor key. Melodic and dreamy and because spinning "Bolero" is just too cliché.
"Butterfly" by Crazy Town
Something so joyous and turn-on about this tune. "Come, come my lady, you're my butterfly, my sugar, baby…" What's not to like?
"Je t'aime… Moi Non Plus" by Serge Gainsbourg
When Brigitte Bardot (married at the time) had an affair with Serge Gainsbourg, she asked him to write the most beautiful love song for her. This is it. Even if you don't understand French, it's not about the words.
"So What" by Miles Davis
Opening tune on Kind of Blue. Zen and jazz and genius Bill Evans on keyboard. Though, of course, all the musicians on this album are genius. Pure bliss and classic make-out music for the ages.
"To Love Somebody" by the Bee Gees
A cream-your-jeans song by three Australian brothers who could pass as dishy British rock star dudes in their heyday. Janis Joplin does a heart-wrenching cover, and Keith Urban's version is astonishingly bland, though one always admires his haircut and highlights.
"Romeo and Juliet" by Dire Straits
Romeo and Juliet revisited with soul-stirringly philosophical lyrics such as: "It's just that the time was wrong." You can rewrite your own Romeo and Juliet story, and this time it will have a they-lived-happily-forever ending.

The Crush Letter
The Crush Letter is a weekly newsletter from Dish Stanley curating articles & intelligence on everything love & connection - friendship, romance, self-love, sex. If you'd like to take a look at some of our best stories go to Read Us. Want the Dish?


---