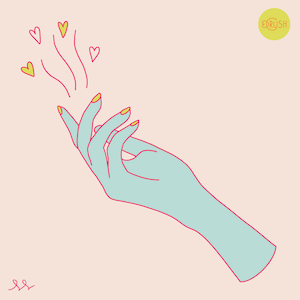 I can confidently say that hand jobs are back with a vengeance. Since COVID caused prolonged social isolation, looking for love or a casual hookup became nearly nonexistent, unless you were partnered off and even then, you might have wanted to be alone, get a grip and just do it yourself!
A good old tried and true HJ is a form of pleasuring oneself or may be a tantalizing appetizer leading to cunnilingus and/or intercourse…so why abandon them now?
With that in mind and hand, I have researched which gel, cream or lotion would be able to address several concerns, desires and budgets. I looked for products that would be able to enhance the experience (keep your arm from getting sore), endure a good wanking without causing irritation (dry skin on dry skin doesn't feel good unless you're into rope burns), getting gummy, messy, or difficult to clean up (watch those silk sheets). I also considered the possibility of allergic reactions to sensitive body parts and compatibility with certain types of sex toys. Lubricants are not birth control, they are not spermicides nor do they protect against STDs. You may consider wearing Nitrile gloves (sexy doctor/nurse role play) when in contact with the skin to prevent spreading or contracting a virus.
Now let's get to the fun stuff to keep things slick and happy. Here are some different types of lube and my recommendations:
Water Based: Most common, versatile, lightweight, easy to clean up and compatible with condoms and most sex toys, (can dry up fast and needs to be reapplied which can be a mood killer).
Astroglide Gel: Long-lasting, stays put, relieves irritation and dryness, safe for use with natural rubber latex and polyurethane condoms (contains glycerin). Available at Amazon, and most pharmacy chain stores. 4oz, $4.49
Promescent: Paraben-free, odorless, colorless and greaseless, certified safe by the FDA. Safe with latex and polyurethane condoms, toy compatible.  4oz, $8.99  www.Promescent.com
Silicone Based: Ideal for highly sensitive skin, silky feel, long-lasting and needs to be applied less often. They are NOT compatible with silicone toys. The surface of the toy may deteriorate over time and become less sanitary.
Sliquid Siver Lube: Waterproof, cleans well with soap and water, formulated by women and proclaims it will not cause yeast infections or UTI's. Glycerin free, hypoallergenic, non-toxic, non-staining latex, rubber and plastic friendly. 8.5oz, $30.46 Amazon
Swiss Navy Silicone Lube: With vitamin E, velvety feel, long-lasting, great for intimacy in the water (shower, anyone?), leak proof pump bottle. Made in the USA, no parabens. 4oz, $14.45 Amazon
Swiss Navy Silicone Lube: With vitamin E, velvety feel, long-lasting, great for intimacy in the water (shower, anyone?), leak proof pump bottle. Made in the USA, no parabens. 4oz, $14.45 Amazon
Organic: Made without parabens, hormones or flavors.
Momentum Organic Aloe Lubricant: Paraben and glycerin free, vegan friendly, infused with oat and quinoa and non-toxic 3oz, $25.00 www.feelthemoment.com
Organic Glide: Probiotic formula is proven to help strengthen the immune system and combat allergies, clinical studies have also shown it to beneficially affect vaginal and urinary tract infections in women. Super smooth and long lasting. Free from glycerin, fragrance, parabens, flavorings and fragrance 4.8oz, $19.95 www.organicglide.com
Specialty Lubes: Flavored, warming, tingling or infused with CBD oil.
Privy Peach CBD Intimate Oil: Reduces feelings of stress, relaxes. Formulated with coconut oil and infused with CBD.  1.2oz, $45.00. Female-centric and female-owned company. www.privypeach.com
Wicked Sensual Care Lubes: Cinnamon bun flavored for when you are craving baked goods or something sweet. Made with glycerin and stevia. (Stevia is non fermentable and does not feed yeast.) Never use flavored lubes that contain sugar, aspartame or saccharin for vaginal intercourse, they are notorious for causing yeast infections.  4oz, $9.99 Amazon
In a Pinch: Baby oil, coconut oil, Suave body lotion or spit (did I just write that?!). Be aware that oil-based lubes may be long-lasting, but they can clog pores, stain fabric and undermine the strength of latex and polyurethane condoms. Oil-based lubes are perfectly safe with most sex toys, however they are associated with higher rates of infections. Sounds like a headache, if you ask me.
Remember to have fun! Whatever you call it--happy ending, pulling the pork or yanking the chain--listen to the lyrics from Madonna's song "Secret": "Happiness lies in your own hands…" And sometimes it literally does.

The Crush Letter
The Crush Letter is a weekly newsletter from Dish Stanley curating articles & intelligence on everything love & connection - friendship, romance, self-love, sex. If you'd like to take a look at some of our best stories go to Read Us. Want the Dish?


---