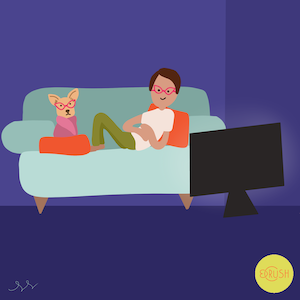 In this periodic column we hook back up with our favorite ex's--as in classic movies worth a re-watch.
Jules and Jim (1962)
Prime Video

Starring: Jeanne Moreau, Oskar Werner, Henri Serre

Released: January 23, 1962 (USA)

Basic Plot: Just before World War I, Austrian writer Jules (Oskar Werner) befriends French Jim (Henri Serre), and both fall head over heels for carefree and beautiful Catherine (Jeanne Moreau). The three form an undoubtedly love triangle, but it's Jules who marries Catherine, in a doomed union. After the war, Jim reconnects with Jules and Catherine, even beginning a relationship with Catherine with Jules's consent. But it seems there is no chance for contentment for these three—let alone happiness—and they will never relive those magical early days before the war. Eventually, Catherine drives herself and Jim off a bridge to their death, while Jules watches.

Why Re-watch: Directed, co-written and co-produced by François Truffaut, in 1962, Jules and Jim won the Grand Prix of French film, the Étoile de Cristal, with Jeanne Moreau taking home the best actress award. The film would go on to revolutionize the world of cinema.

As the story goes, François Truffaut discovered the novel Jules et Jim in a bookstore and sought out the writer, Henri-Pierre Roché, for his consent to make it into a film. It wasn't until he was 74 did he publish Jules et Jim, his first novel. (He'd publish another, his second and last in 1956, before passing away in 1959. Roché was an artist and writer and part of Paris's bohemian scene, said to have introduced Gertrude Stein to Picasso. He would not live to see the never-ending success of Jules and Jim, as the film premiered a few short years after his death.
The reason this is significant, is because Jules et Jim was Henri-Pierre Roché's semi-autobiographical story. By the time his book was published in 1953, no doubt Roché had made some peace with the story of three people who loved each other without taboo—but the world of the 1950s had not. When you re-watch this exquisite film, you're sure to be taken by the frankness they all have to express their emotions, their love, their devotion to one another. The story and its issues—particularly its portrayal of Catherine—are a source of endless debate. It would seem love between three people will forever spark interest, and this film will continue to inspire forever.

The Unbearable Lightness of Being (1988)
Prime Video

Starring: Daniel Day-Lewis, Leno Olin, Juliette Binoche

Released: February 5, 1988

Basic Plot: Adapted from the 1984 novel by Milan Kundera, The Unbearable Lightness of Being tells the story of Tomas (Daniel Day-Lewis), a surgeon, who falls for a beautiful, young photographer named Tereza (played by then 20-year-old Juliette Binoche). After bringing Tereza back to Prague with him, she realizes he's already deeply involved with the sultry Sabina (played by the stunning Lena Olin). After the Soviets enter Prague, the threesome leave for Switzerland, bringing all their issues with them. Only after Tomas and Tereza finally confront the hurt within their relationship can they achieve true love and happiness, but not before they die together in a car accident.

Why Re-watch: You might think, given the tragic ending of The Unbearable Lightness of Being that it somehow takes away from the romance of the story, and nothing could be farther from the truth. These are three of the finest actors to ever grace a silver screen and they do Kundera's critically-acclaimed story proud. This story reminds us of the heaviness and "lightness" of life and, in a somewhat cliché way, that you really can't have one without the other. The theory, philosophy and meaning are far more involved than that, though the story is reflective of the dichotomies of the human existence: Tomas is a successful surgeon, but a screw up in love; Sabina could have anything and anyone she wants, but she values her freedom most of all; Tereza believes in a traditional relationship, but can't help being deeply in love with Tomas.

It's worth noting that Czechia-born Kundera had lived in exile in France since 1975, and, at the time this book was published in 1988 it was banned by Communists of Czechoslovakia until the regime dissolves in 1989. No doubt he understood—or, at least had questions about—the "lightness of being". Any story that references Nietzsche, as this one does, is dealing with some very heavy issues.

I first read this book when it came out. I focused on the ending, and it had me wondering, for years and years, what the whole point was if we were going to die, especially Tomas and Tereza's final happy scene that ends in tragedy. Whether you choose the book or the movie to revisit, it will likely blow your mind how it reflects on your own ability to observe your younger self discovering this story for the first time. You must go through life not knowing the ending. Kundera asks us to consider the lightness of life.

Blue is the Warmest Color (2013)
Prime Video

Starring: Adèle Exarchopoulos, Léa Seydoux

Basic Plot: Fifteen-year-old Adèle (Exarchopoulos) meets the slightly older aspiring artist Emma (Seydoux) and the two fall in love. The film takes place over a number of years, following Adèle's relatable period of discovery, identity, and all the growing pains that come from getting to know yourself heading into adulthood.
Why Re-watch: When this film was released in 2013, it accepted a rating of NC-17, rather than cutting the steamy sex scenes. That's far from the reason to watch or re-watch, though, when you do, keep in mind that Adèle Exarchopoulos was 18 when filming started, and her raw performance—and her chemistry with the extraordinary pre-James-Bond-love-interest Léa Seydoux—is likely one of the most touching and honest in modern movie history.

Watch it because it will remind you of the importance of the transitions we all go through in life and love, having you reflect on your own past (or, perhaps, your own present and future). It'll remind you that ordinary love at every stage is epic and heartbreaking and you'd never change any of it, even if you could. Watch this film because, simply, the French know how to make film, especially love stories, by allowing the stories to breathe in realness and silence.

More than anything, watch it because it's a beautiful love story.

Jackie Brown (1997).
Hulu

Starring: Pam Grier, Samuel L. Jackson, Robert Forster, Bridget Fonda, Michael Keaton, Robert De Niro.
Basic Plot: In this crime drama adapted from a novel by the brilliant Elmore Leonard, Pam Grier plays a stewardess whose side hustle is working as a smuggler for Ordell Robbie, a gun runner out of L.A. played by Samuel L. Jackson.  When $500,000 of Ordell's cash goes missing Max Cherry, a bail bondsman with a heart of gold enters the story, played by Robert Forster, as well as an ATF Agent played by Michael Keaton, a criminal associate played by Robert De Niro and a mouthy surfer girlfriend played by a nonchalantly sexy Bridget Fonda.
Why Re-watch:  This is a Quentin Tarantino that has all the hallmarks of his style: exceptional casting, outrageous characters, dialogue-driven scenes with depth and texture, and clever plot twists.  There are many memorable scenes in this movie involving the ensemble of eccentric underground characters playing brilliantly off each other, but Grier in the title role is the reason to watch.

An Unmarried Woman (1978)
Xfinity Stream

Starring: Jill Clayburgh, Alan Bates, Paul Mazursky

Basic Plot: "Happily" married art-gallery worker Erica is sideswiped when her stockbroker husband Martin (Michael Murphy) leaves her for a younger woman. As the devastation wears off, Erica begins reevaluating her own needs and rediscovering herself in a way that can only come from being newly single. As a new relationship forms with an English artist (Alan Bates), she's careful to be sure she preserves her newfound joyful self.
Why Re-watch: It's impossible for me to review this movie without mentioning how it got me, personally, through my own divorce. My situation was the opposite of Erica's—short-lived marriage, no children—but the shock of something ending, followed by a period of rediscovery, isn't situational or generational, and will likely stand the test of time. For anyone who's been through it, the space before the rebirth of oneself post relationship, though different for everyone, is muddled at best and terrifying at its worst. Jill Clayburgh, inarguably one of the best actors of her generation, captures all of this in its layered messiness and wonder. Considered her "breakout role", An Unmarried Woman earned Clayburgh the Cannes Film Festival Award for Best Actress and a nomination for the Academy Award for Best Actress. Best part is, you don't need a crisis to revisit or be inspired by this movie's brilliance. It's sure to move and inspire you, no matter where you are in life. Watch trailer here

Bob & Carol & Ted & Alice (1969)
Prime Video

Starring: Natalie Wood, Robert Culp, Elliot Gould and Dyan Cannon
Basic Plot: It's 1969, and Bob and Carol Sanders are ready to embrace the newfound idea of an open marriage and share the news with their close, conservative friends, Ted and Alice Henderson. After Bob and Carol test the waters with affairs, and everyone's had an opportunity to wrap their head around this "new way" of thinking, the four decide to trade partners on a trip to Vegas, only to decide that they really do want to stay with the one they'd married.
Why Re-watch: Revolutionary for its time, and right in line with 1969's free love crusade, Bob & Carol & Ted & Alice is only dated in its now groovy period-piece style. Plot-wise, it could easily be renamed The Perils of Bored, White Rich People, but its stars have never been more beautiful and vibrant, and this is reason enough to revisit. It earned four Academy Award nominations (including Gould and Cannon), and one for its screenplay. Moreover, like any great work of art, you're able to remember the first time you watched, who you were, what you thought, and reflect and assess how you've changed—or not. There's a good chance you saw this movie when you were young, and now that you're older and perhaps wiser…what do you think? Would you ever? Would your movie have the same ending? The questions and theme of "what the world needs now, is love sweet love" will never become dated.

Shampoo (1975).
Prime Video

Starring: Warren Beatty, Julie Christie, Goldie Hawn, Lee Grant and Carrie Fisher.
Basic Plot: In this quintessential early 70's classic, Warren Beatty is George, a rock star Beverly Hills hairstylist, and Julie Christie, Goldie Hawn, Lee Grant and Carrie Fisher (in her film debut) play the roles of  the rapturous women whose hair (and bodies) he adores.  Beatty plays George as tender, earnest and genuinely lovable lothario who is caught in a personal and professional trap that is (only) part his own making.  He loves making love to so many women because it makes him feel "like I'm going to live forever," but he also yearns to settle down with the one woman he really loves, start his own salon and build a stable life.
Why Re-watch:   The cast, and in glorious early 70's glamour.  And the storyline: George's personal struggles are entertaining and moving enough, but what elevates this film is that they mirror the great cultural clash of the period. The movie takes place in 1968 on the eve of Nixon's presidential election.  Considered one of the most pivotal years in American political history, US News called it "The Year That Changed America Forever."  It saw MLK's and Robert Kennedy's assassinations, shocking depictions of civilian massacres in South Vietnam from the Tet Offensive which started America's withdrawal from Vietnam, and the clash of the sexual revolution of the 60's with the proponents of traditional values.  In the film George represents the former and his antithesis and unlikely romantic challenger, the successful and wealthy businessman (and Nixon booster), Lester, represents the latter.  They are fighting over the love of Jackie, played by an exquisite Julie Christie.
It is a quintessential early 70's film, overcast with political tension and foreboding, depicting a cultural clash that foreshadows today's.  But also, it is a feast of period images:  the groovy wardrobes (Beatty's conch belt, Hawn's Mexican-inspired top paired with printed cotton panties, Christie's backless sequined dress); 70's Los Angeles as a backdrop; vintage cars; the intense passion between Beatty and Christie (they were involved with each other during the filming); and of course, the hairstyles!  Beatty's shag is an otherworldly star in and of itself.
Directed by the great Hal Ashby (Harold and Maude) with music by Paul Simon.  It's playing on Showtime now.  Watch the trailer here.

La Piscine (1969).
HBO Max
If you didn't spend your summer tuned into the NYC heat index, then you may have missed the fever around the 1969 French psychodrama La Piscine ("The Swimming Pool").  There's been a lot.  It opened at the consecrated Greenwich Village art-house cinema the Film Forum in May and never left, only one of the reasons that Glynnis McNichol of The New York Times called it a "film of New York's 2021 summer."  By then Glenn Kenny, also of The New York Times, had named it a "Critic's Pick," The Criterion Collection had added it to its library of vaunted classics and Robert Abele further enflamed with his review in the L.A. Times Desire by the poolside electrifies psychodrama of 1969's 'La Piscine.'  Farran Smith Nehme provided some juicy (and much appreciated, for this viewer) back story in Sun-Kissed Tension: On the Staying Power of Deray's La Piscine on rogerebert.com.  And, in reaction to all that, one of my favorite film critics, Richard Brody, wrote The Movie World's Misplaced Worship of 'The Swimming Pool' in The New Yorker.  
Whether he was successful in dousing out the fire lit by La Piscine I'm not sure.  I can only say that I was glad that I did not read Brody's derisive critique ("American art-house cinema mistakes the film's glamour and nostalgia for oginiality") before watching it.  Brody took the sultry movie seriously, as its weighty themes (possesiveness, manipulation, control, feminine power and objectification) and even more menacing atmosphere might insist.  Also, there was all that ruckus.  Me?  Not so much.  Maybe because I started it on an unseasonally hot, sleepless August night at 2am, or maybe owing to its very slow pace, but I gave up searching for the clues that might ultimately hold the story together early.  About ten minutes in, actually.
That's when a young Jane Birkin, playing the role of a detached young woman named Penelope (though I never saw her as anything other than an early version of the boho sensation she would become) and her father Harry (played by the excellently snakey Maurice Ronet) step out of his burgundy Maserati.  They are joining the central characters, Marianne (a hypnotic Romy Schneider) and Jean-Paul (a sultry and pensive Alain Delon), who had spent most of the opening scenes playing in and around the pool that is the focal point of the spacious villa outside Saint Tropez friends have lent them.  Also by then, viewers had witnessed the one suggestively sadomasochistic scene that could explain the intensity and, ultimately, persistence, of the bond between the two leading characters, Marianne and Jean-Paul (as well as underscore some of the film's themes and connect the story line).
But I'm not going there, because also by then the themes and the story line itself already felt drowned by the weight of the mesmerizing beauty, glamour and cool of the dazzling leads, the villa, the period, the cinematography, the groovy score.  Watching gorgeous, tanned bodies in various states of stylish dress, often wet from the pool, seducing and lusting and stretching and strolling around an elegantly relaxed French Riviera villa--all with a glowering hint of danger mixed into the backdrop--was more than enough reason for me to jump in.  Those are the reasons to watch La Piscine.  It is not soft porn, but La Piscine offers up a kind of quintessentially 60's languid, sultry visual stimulation that slowly builds like drawn-out foreplay, after which you can dive into whatever you'd like.
Watch the trailer on youtube here.  Note that the relative jazzy pace of the trailer belies the lazy crawl of the film itself.

The Collector (1965).
Prime Video

If you are looking for some hair-raising suspense over Halloween, you couldn't find anything more chilling - or with more critical chops - than this British psychological thriller.  A study in terror and obsessiveness, it is the story of a bank teller's hobby as an avid butterfly collector.  One such butterfly is human, unfortunately.  Samantha Egger plays the caught beauty Miranda Grey utterly convincingly - flitting from terrified to clever to seducer and back (as any desperate prey would) - for which she won both an Academy Award and a Cannes Best Actress Award.  The bank teller, Freddie Clegg, is played by Terence Stamp, who also won a Cannes.  The movie racked up many more nominations, including for Best Direction (William Wyler).  And as if that is not enough, it is based on the novel by the great John Fowler's (who also wrote The French Lietenant's Woman).  The whole thing is an example of artistry and craft.  This recommendation was sent in by Crush Reader Steve Kane (follow him on insta here), a fan of both the movie and the novel it was based on.  "Because the world has forgotten brilliant author John Fowler's and it's a goddamn shame.  The movie is also brilliant … [with the] cunning, weird, awesome Terence Stamp as Freddie."  Thanks Steve.


XO,
Dish
The Crush Letter
The Crush Letter is a weekly newsletter curated by Dish Stanley on everything love & connection - friendship, romance, self-love, sex. If you'd like to take a look at some of our best stories go to Read Us. Want the Dish?


---