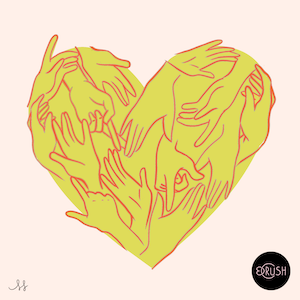 One writer conceives a sexy birthday gift for her lover, and shares with us so we can all spread the love.
As my lover's birthday was approaching, it was time for me to give some thought to his present. Over the years we've been together, I've gifted him with everything from the sublime to the ridiculous, but this being a milestone birthday, I wanted to think long and hard (hmmm...) about my choice.
Of course, I would pamper him, but how?  Sure, full-service spas and fine dining are swell, but one of the many things I took away from 2020 was how little we really require, and so I wanted to honor the birthday boy with something more meaningful than the contents of a box lobbed at his door by an overworked Amazon driver.
I thought about his passions: baseball, music, wine, and the written word, and decided on three out of four.
When his special day arrived, I softly played Carl Maria von Weber's Clarinet Concertos in another room. Then, I opened a bottle of his favorite Nero D'avola and asked him to get himself comfortable on the divan. With his eyes closed, I began reading aloud my carefully curated erotica and, suddenly, we were transported to a simpler and sexier time. Lazy days of intimacy and undivided attention. Every so often, I would playfully pause before revealing the juicier passages. With each word I read, I could hear his breath quicken. I could see his chest rise. From time to time, a devilish smile appeared.  We two were completely engaged, aroused like a couple of teenagers tangled under a boardwalk. Needless to say, we never made it to the birthday cake, and lover-man has requested that a naughty novel become a regular part of our repertoire.
Here are a few I personally vouch for, for your repertoire:
Delta of Venus (1977) Erotica By Anais Nin
Realizing that the female experience was seldom represented in literature, Anais Nin began her erotic diaries and novels in 1931 and continued through 1966. During the 1940s, she wrote Delta of Venus, a collection of fifteen short stories, for a private collector of erotica, but it was not published until after her death in 1977. In my mind, Nin is both master and mistress of this genre, evoking so much with so few words.
Rubyfruit Jungle (1973)  By Rita Mae Brown
A now-classic of lesbian literature, Brown's debut novel has been described as groundbreaking, hilarious, and powerful. Her graphic, autobiographical account of her struggle with sexual discovery, spans from her Pennsylvania childhood in the late 1940s to her professional career in late 1960s Manhattan.
Erotic Neighbors: Five Erotic Male Gay Stories for Adults (2021)  By Koby Rennie
Reading through these stories was akin to self-soothing with an entire box of assorted munchkins from Dunkin' Donuts: "bite-size delights in a variety of delicious flavors, so it's easy to try them all."
The Sexual Life of Catherine M. (2001)  By Catherine Millet
Originally published in the author/art critic's native French, writer Edmund White called this memoir "the most explicit book about sex ever written by a woman."  Moving in and around Paris, Millet's escapades are fueled by her insatiable desire for group sex and her open marriage with her husband, writer Jacques Henric, for whom each story was originally written as a letter describing her trysts.

The Crush Letter
The Crush Letter is a weekly newsletter curated by Dish Stanley on everything love & connection - friendship, romance, self-love, sex. If you'd like to take a look at some of our best stories go to Read Us. Want the Dish?


---