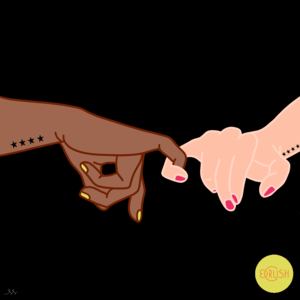 Sunday in the Park with Gus.  By A.K.A. Darla
A friendship built on show tunes is a friendship built to last. Here our own AKA Darla revisits one of her favorites.
No girl ever forgets her first gay husband. Mine was Gus, a gifted pianist and a full-on lover of life. We met in college in an "Intro to Musical Theater" class, bonding over the deep fear we shared of Karen Swensen, the prickly instructor who would berate us for being ill-prepared, singing the wrong lyric, or anything else she considered unfit for the piece we were presenting. Whenever she critiqued our performances, she would gesture wildly with her arms, causing her signature wooden bangles to click and clack with each movement. It was not until we embarked on the real world of show business that we appreciated how Swensen had thickened our skin enough so that we could endure the slings and arrows of auditioning. Gus would often help me prepare for those auditions and, on occasion, come along as my accompanist. Over time, my encounters with Gus became as infrequent as my auditions, until the day my phone rang.

"Hello?"  
"This is Mrs. Swensen. Did you vocalize today, you lazy bitch?"
Knowing it could be no one but Gus, I roared. After catching up, Gus confessed his reason for calling. "Honey, I'm gonna cut to the chase. I booked a duo gig at a cute little queer-friendly nudist park and the chick singer I hired backed out. You're the only singer I know with enough balls to do it."
"Do I have to take off my clothes?"
"Only if you want to."
"I don't."
"Fine."
"Are YOU taking off your clothes?"
"Only if you want me to."
"I don't."
"Fine. So are you in?"
"I don't know…"
"It's just a bunch of people doing their thing. I promise you'll get used to it."
"Can I think about it?"
And then Gus said those magic words. "It pays a ton of money and we'll have a barrel of laughs."
And that Sunday I found myself driving up to the mountains with my truly outrageous college counterpart.
The mood was festive and our beach party setlist was well-received. Hiding behind sunglasses, we delighted in watching people engage in everyday activities that took on a whole new meaning in the absence of wearing a bathing suit: bouncing on a diving board, climbing the ladder to the water slide, playing ping pong, dropping your cell phone, and finally, toweling dry. Gus was right; after a while, you get used to it and I actually felt a tiny bit out of place wearing clothes.

Lunchtime. We entered the air-conditioned dining room and removed our sunglasses.  Though it was freezing, no one but me, and Gus wore a stitch. We followed the naked hostess to our table. As she kindly pulled out my chair I realized that the last person to sit there was NOT wearing pants. I opened my napkin and laid it across my seat. Gus laughed. We ordered lunch and talked about what tunes to do for our next and final set as the waitress returned and handed Gus a note. "The lady at table six asked me to give this to you." He opened the note and read it out loud. "Don't you kids know any show tunes?" He looked around the room and noticed a woman waving at us. As Gus waved back, the woman stood up and approached our table. She was eighty if she was a day, burnt like bacon, and wore nothing but an armful of wooden bangles that clicked and clacked with each of her movements.

"People wanna hear show tunes, baby!" she bellowed.
"Ms. Swensen?" Gus whispered.
"Call me Karen."
"We know show tunes," I sheepishly muttered.
"You bet your ass you do. Now get out there and sell it!"

And "sell it" we did. For the next couple of hours, we were the Patti Lupone and Lin-Manuel Miranda of the nudist scene. Two Broadway Babes singing our hearts out for a clammy but wildly receptive audience. From time to time, we would spot old Swensen out there in the sea of skin, singing along, clicking and clacking, and – for the first time ever – criticism-free.

That night, Gus and I sang show tunes all the way home. Just a couple of people doing our thing.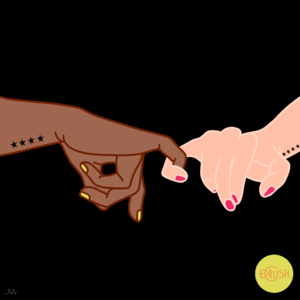 A Friend I Lost & Found Through the Years. by A.K.A. Darla
Our very own A.K.A. Darla shares a personal story about losing a friend to precarious circumstances—and finding her 30 years later.
Watching my daughter prepare to move into her new apartment brought me back to when I first left home in the early, edgy '80s. Just a half-block off Manhattan's Gramercy Park, I found a 300 square-foot studio with hallway lighting that flickered each time someone closed their door, and a lone window that faced a brick wall. I shared the five-story walk-up with Jana, an easygoing young woman I met in acting class. For two struggling actresses who went home only to sleep, shower, and dress, the price was just right.

A year into this arrangement, the novelty wore thin and I began to wonder if I would ever get to live independently in a space I could walk through in more than three strides. Then one day, the angels sang: Jana fell in love with a guy who had his own apartment on the Upper West Side!  As soon as he proposed, Jana arranged an engagement party at her fiance's place. Oddly, none of the fiance's friends were in attendance.  Not one. In an attempt to make conversation, I asked the fiance what he did for a living.  He told me my question was rude. As I laughed a nervous laugh, the fiance leaned into me and dropped a bomb. "Why don't you and I get together?"  I was stunned. "I don't think so," I answered.  And like in one of those flipbooks we made as kids, I saw Jana's life with this creep play out before my eyes. "This conversation never happened," the fiance said. "Understand?"  I certainly did.


I left the party early and headed home, partly to wash the slime off my body, partly to enjoy having the apartment to myself. And so began my first adult moral dilemma: to tell Jana or not to tell Jana. I rehearsed just how I would break the news to her, but nothing seemed right. I was certain that telling her would break her heart, and I couldn't even imagine breaking her heart. And if I did tell her, perhaps she would think I imagined it.  Besides, the fiance made it quite clear that he would deny it. Unsure of what to do, I took the path of least resistance: I didn't tell a soul. Three months later, on New Year's Eve, Jana was married.

In an effort to avoid her husband, I avoided Jana. Renee, a mutual friend, told me Jana was upset with me for not returning her calls. I made excuses. And I made believe I didn't miss Jana.

Thanksgiving came and with it came a call from Renee. Instead of phoning to wish me Happy Thanksgiving, she was phoning to say that Jana's husband ran off that morning with his secretary. He told Jana she shouldn't worry because he was leaving her the apartment, along with a few other things: thirty thousand dollars in credit card debt and three months of rent arrears. I sat down to dinner and pushed my stuffing and yams around my plate, thinking Jana might have been spared all that pain and anguish if I had spoken up. Still, I wondered, is it really one's duty to blow the whistle if they are hit upon by their friend's significant other?

Years passed and Jana moved away. Decades passed. There was to be a reunion of our acting class.  I wanted to see Jana. I wanted to know that she was okay.  Indeed she was, beaming and beautiful as ever. She introduced me to her husband, a personable, attentive man who loved his work. And she loved hers. She showed me photos of their children, their pets, their home, their sailboat. She was truly happy. We reminisced about the carefree days in that tiny apartment, astonished by our ability to make it through an entire year without ever losing our sense of humor. And we laughed.  Then, Jana leaned into me. "I owe you an apology."
"For what?"
"For not keeping in touch," she said softly.
"Please don't apologize. It works both ways."
Jana put her hand on mine. "Life gets in the way, sometimes. Can you forgive me?"
Now was my chance, thirty years later. "Jana…?"
Just then, Jana's husband appeared, handing us cocktails.
"What are you ladies whispering about?" he asked.
I raised my glass and smiled.  "I'll never tell."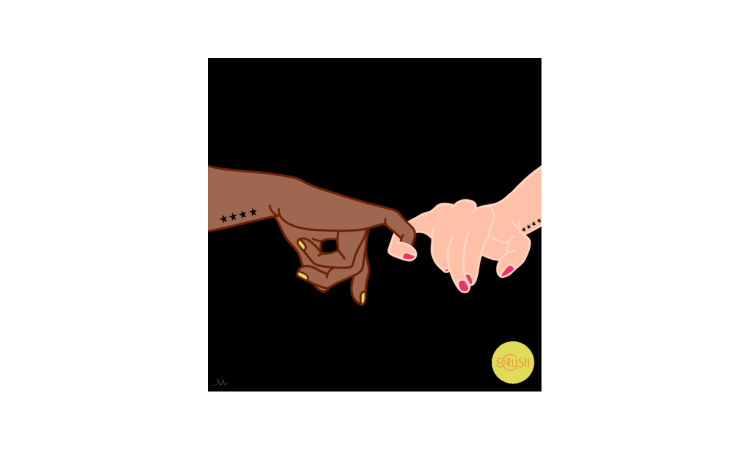 The Friendship Files: Like A Tattoo.  By A.K.A. Darla
My father often told me that one would be rich in life if they had just one friend. A real friend. A person who would traverse life with you through the good, the bad, and the ugly. You may fight with them and cry with them, but you'll laugh with them and love with them. Sometimes, you may not want to talk to them, but you know they are there.  And if a long time goes by when you don't speak to them, you will eventually pick up exactly where you left off, as if no time passed at all.
For some reason, the universe has paired you with this person. If you journaled the notable moments shared with them, you'd have volumes. This new column tells some of those stories.
I am an only child.  I have never rued the absence of siblings, and I relish every childhood moment spent in the solitude of my room, writing poems, reading books, playing guitar, eavesdropping on grown-ups, and daydreaming.
The closest thing I've experienced to sisterhood is the friendship I share with three women I've known since nursery school. Between us, we've had four Holy Communions, five marriages, six children, and four divorces. Three of us once spent a particular New Year's Eve trying to get the fourth out of jail. We've celebrated the milestones of our children, and held each other at the passing of our parents. We live in four different cities now, but make a point to get together at every possible opportunity.
One such get-together took place on a chilly Spring morning when we met for brunch at the Greenwich Village bar we've frequented since getting our hands on our first fake I.D. Over champagne and French toast, we discussed politics (until a fight broke out), a son's new job, a kitchen renovation, a trip to Iceland, Eastern medicine, and my daughter's massive tattoo.
"We should all get tattoos!" said the one who was most drunk.
"You don't have the balls!" I snapped back, challenging her.
"We'll do it next time I'm in town. We need time to think about a design."
Refusing to let this moment go by, I suggested we each get four small stars of different colors, each star representing a member of our pack. As we finished our meals, we scrolled through our phones to find a tattoo parlor open on a Sunday morning. With no results, we decided to go for a walk instead.
We stopped at a liquor store for more champagne, then made our way to the large city park where we played as kids. We climbed up to the bleachers and drank the champagne from paper coffee cups, reminiscing about the hundreds of hours we had spent here. Each story played out like a home movie before our eyes, with scenes of softball, swimming, bocce, and boys.
We left the park and walked uptown through our old neighborhood when we came across a familiar storefront that had been taken over by a headshop. Through its grimy window, one could see scores of bongs and pipes, with a sprinkling of dildos thrown in for good measure. Then, like a rose in the desert, stood a hand-written index card that read, "WE DO TATTOO."
"Look!" I screamed, pointing to the card. Emboldened by champagne, I walked through the doors of iniquity, as the posse followed for protection. The tattoo artist/bong salesman/dildo merchant spoke little English, but somehow the thrifty one in our pack convinced him to give us a rock bottom price since we were all getting the same design.
Wanting to "just get it over with", the cautious one in our pack went first. She cried all the way through, while the compassionate one in our pack held her hand before taking her own turn. Having naturally birthed three boys in four years, she didn't even flinch.  The thrifty one in our pack went next, still trying to negotiate a better price with the owner as he dug his instrument into the top of her right buttock. I went last, as everyone watched, shaking their heads at the absurdity of it all.
When it was time to say goodbye, we made a pact to watch for signs of Hepatitis C, then went our separate ways.
Yes, I am the impetuous one in our pack and -- truth be told -- I regret our decision. Ours are the ugliest tattoos I have ever seen. But each time I happen to glance at the figure on my right hip, I am reminded how we have been blessed with a lifetime of love, and I make a silent wish upon our tiny stars that we four will forever remain as close as this ink is to our skin.

The Crush Letter
The Crush Letter is a weekly newsletter curated by Dish Stanley on everything love & connection - friendship, romance, self-love, sex. If you'd like to take a look at some of our best stories go to Read Us. Want the Dish?


---