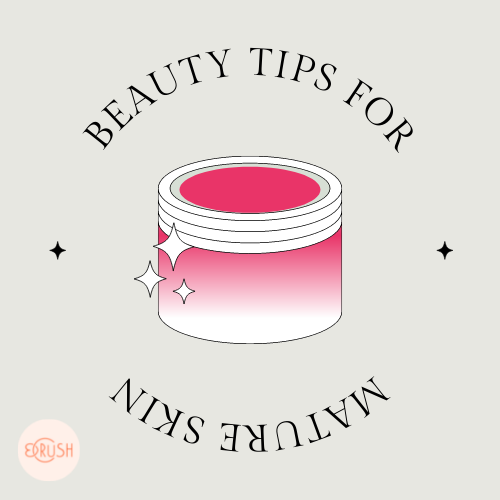 Our resident beauty expert offers tips and tricks for honoring your skin's needs today.
I've evolved, so when it comes to beauty and skincare I'm a firm believer in using what works for me now. The purple "Stage Light" eyeshadow that I wore during my disco days and lining my eyes with ultra-black Maybelline eyeliner (burned with a match for extra staying power) no longer serve me. These nostalgic items are now lovingly housed in a plastic container that is used as inspiration for future Halloween costumes. I'm no longer scrubbing my face with St. Ives Apricot Scrub (I might as well have used sandpaper) or washing my face with tingly, eucalyptus smelling Noxzema. I'm not into the trends of overwhelming, fussy beauty routines that require a million steps. I'm not watching or following the advice of TikTok influencers who are priming, baking, and contouring. (It's not like I'm planning to become a pastry chef or a contractor preparing to sheetrock a wall.). I want simple, easy-to-use products that address my mature skin and beauty concerns with attainable results.

Here are some of my favorite products and tips to help guide and encourage you to update your beauty and skincare repertoire.

1.Wash your face. Cleanse with a product suitable for your skin type: normal, dry, oily. Look for products that hydrate with glycerin and hyaluronic acid, lightly exfoliate with glycolic , lactic or salicylic acid and seal moisture (ceramides).

TRY: La Roche-Posay Toleriane Hydrating Gentle Face Cleanser for Dry Skin $14.99, Ulta
iS Clinical Cleansing Complex $45.00, Derma Store
2. Skip toner. Unless you have residue leftover from wearing heavy makeup or your cleanser is extremely alkaline, or you like the extra step.
TRY: Sisley Paris Botanical Floral Toning Lotion $98.00, Amazon
Mario Badescu Witch Hazel & Rosewater Toner, $14.00, Sephora
3. Exfoliate. You may use a gentle exfoliating pad once a week to increase cell turnover to reveal a brighter, even-toned complexion.
TRY: Pixie By Petra Glow Tonic To-Go Pads $18.00, SkinStore
4. Moisturize. Even oily skin can still be dehydrated. Use a formula of choice and adjust according to season and geography. Apply one with hyaluronic acid to attract moisture and to add glow and plumpness to the skin.  
TRY: Neutrogena Hydro Boost Water Gel $17.99, Amazon
Revision Skincare Vitamin C Lotion 30% $128.00, LovelySkin
5. FOUNDATION. Rethink foundation. As we age, the elasticity and texture of our skin changes. You don't necessarily need a full face of foundation unless you are going somewhere that demands a full face and long-lasting finish. Use liquid, buildable formulas with thinner textures. Avoid matte formulas that tend to draw attention to fine lines and look flat. Use a dampened sponge which uses less product, goes on more smoothly and ends up in an even, streak-free finish. Gently apply and tap into skin where there is redness, discoloration, large pores or shadows. Allowing your skin show through is fresh and healthy looking.
TRY: Kevin Aucoin Stripped Nude Skin Tint, $42.00, Kevin Aucoin Beauty
Juvia's Place I Am Magic Foundation $22.00, Ulta
6. CONCEALER: Creamy formulas are best, but too rich formulas can crease, like GoldiLocks and the Three Bears, you need one that's just right. Use sparingly or risk looking like an owl. Placement is key. Use where there are blueness/shadows by the inner corner and hollow of eyes, and at the outer edge of eye, blend upward to give an uplifted look.
TRY: Charlotte Tilbury Magic Away Liquid Concealer $32.00, Charlotte Tilbury
Hourglass Cosmetics Vanish Airbrush Concealer $36.00, Hourglass
7. BLUSH: Ditch the Powder Blush: Try liquid, cream or gel formulas to get that lit from within. You can't make a mistake. Tap on cheeks in a circular motion. If you have any extra left on your fingertips, swipe across forehead, bridge of nose and even your eyelids. Trust me, you will look like you just came back from a brisk walk--or roll in the hay.
TRY: Stila Complete Harmony Lip & Cheek Stick, $26.00, Ulta
Jones Road Miracle Baum $38.00, Credo
8. EYES: Toss the frosty, metallic eyeshadow. Stick to matte or low-shimmer shades.
TRY: Viseart Eyeshadow Palette $80.00 Sephora
It Cosmetics Naturally Pretty Essentials Matte Luxe Transforming Eyeshadow Palette $29.00, Ulta
9. LIPS: As we age our lips lose color and volume. Our lipstick may begin to feather and bleed into those pesky lip lines. Ditch the drinking straws and cigarettes…and before you run for an injection…
TRY: Bite Line And Define Lip Primer, $22.00,Sephora Beauty Amplifieruniversal Lipliner, $7.00.  
TIP: Don't be afraid to experiment and swipe a Classic red or vibrant lip color to brighten your face. You can easily tie your hair back into a low ponytail or messy bun, put on a pair of fabulous shades and you're good to go!
TRY: Look Fabulous Forever Lustrous Colour Lipstick in Hollywood Red $30.00, Look Fabulous Forever
10. FRAGRANCE: Our signature scent reflects who we are today. Fragrance can add joy and the finishing touch to your beauty routine. Fragrance is personal, there are no rules. Mature skin tends to be drier and doesn't hold fragrance as well, so layering with the same scent in a body lotion will add staying power while keeping your skin silky and hydrated.
TRY: Chanel No. 19 Poudre Eau De Parfum $190.00, Chanel
Tom Ford Soleil Neige Eau De Parfum Travel Spray $65.00, Sephora
11. SUNSCREEN. You've heard this advice a million times, so just do it. Protect your skin daily to prevent skin cancer, UV damage and hyperpigmentation. Pay extra attention to your hands, they have less fat tissue then the face and over time they can begin to look hollow and wrinkled. Show them some love.
TRY: Deborah Lippmann, Rich Girl Hand Cream SPF 25 $28.00, Amazon
Nothing in nature stays the same and instead of clutching and perhaps hiding behind familiar products, habits and outdated perceptions, we can choose to graciously accept and evolve into another version that's even more authentic and fabulous. Start small, be brave and brutally honest. Toss out what no longer works, represents or compliments you. It's an opportunity to update not only your beauty routine but also your mindset.
---