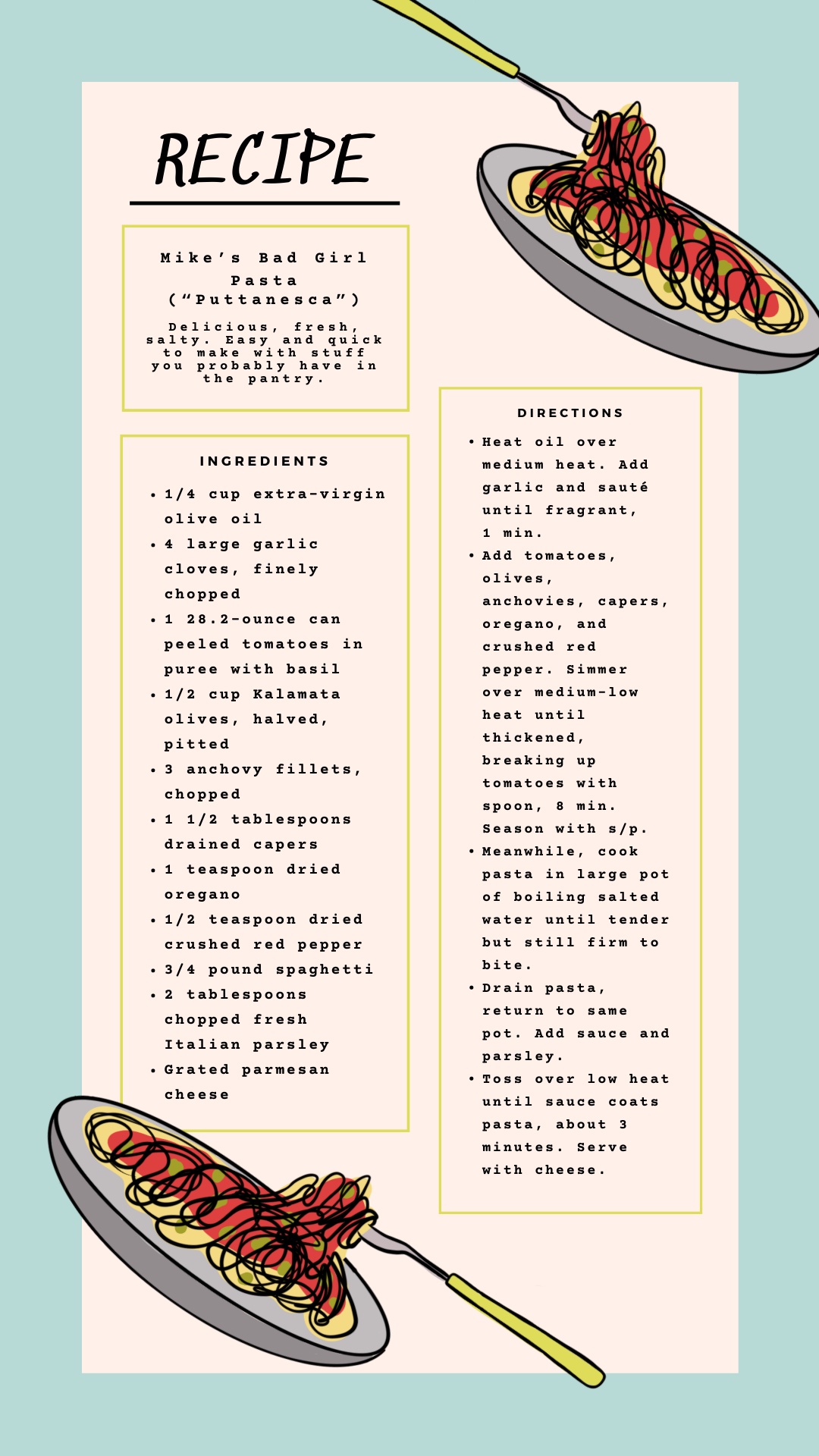 I wrote about The Sex Object Stanley Tucci, and how The New Yorker just recently realized that Tucci is a sex symbol though some of us have known since he starred in Big Night in 1996. It got me thinking about how a perfect post-pandemic Sunday night "friends gathering" would have everyone rolling up with a big bowl of their favorite pasta and a bottle of wine to share. And then we all just low-key casually shoot the shit about big and small things and everything in between as if the joy of being together in an ordinary way is ordinary life. And we really appreciate it. And the very next thing I thought is that I would want my friend Mike there and I'd hope he'd bring his "Bad Girl Pasta."
Like The Sex Object Stanley Tucci, Mike is Italian on both sides. Sicilian on his mother's side, and Calabrese on his father's. "There was a lot of yelling," he offers nonchalantly. Mike learned to cook at the elbow of his grandmother, "Mama," from whom he also learned that a beautiful bowl of pasta is a bowl of love (and other important lessons about feeling the presence of love he shares here.) "I've long held we can taste the presence (or absence) of love in the things we eat ... We can feel the love in most things, actually ... in the work of artists, writers and directors.") Like the Sex Object Stanley Tucci, Mike cooks (and shares it with us on instagram.) The story of puttanesca pasta as it was handed down to Mike (most likely from "Mama").
"Italian sex workers don't make a lot of money, and they don't have a lot of time for lunch.
They needed a delicious lunch that could be made with pantry staples, a pasta sauce that could be prepped in the time it took to boil the water, and done in th time it took to cook the pasta. Thus was born Pasta Puttanesca, or "Bad Girl Pasta" as it's it's known in Mike's house. In Italian, roughly speaking, Pasta of the Whores.
Thanks, ladies."
Oh, and for the red wine to pair it with? Mike says "Something that can hold up. Santa Cristina, maybe, or a nice Pinot (like a Cristom Mt. Jefferson from Oregon.) Nothing fancy."
Thanks, Mike. All that love? We're feeling it.
Here it is (along with a lot of other food stories) on Mike's insta @miketrap. You can get the recipe card on our website here.

The Crush Letter
The Crush Letter is a weekly newsletter from Dish Stanley curating articles & intelligence on everything love & connection - friendship, romance, self-love, sex. If you'd like to take a look at some of our best stories go to Read Us. Want the Dish?


---